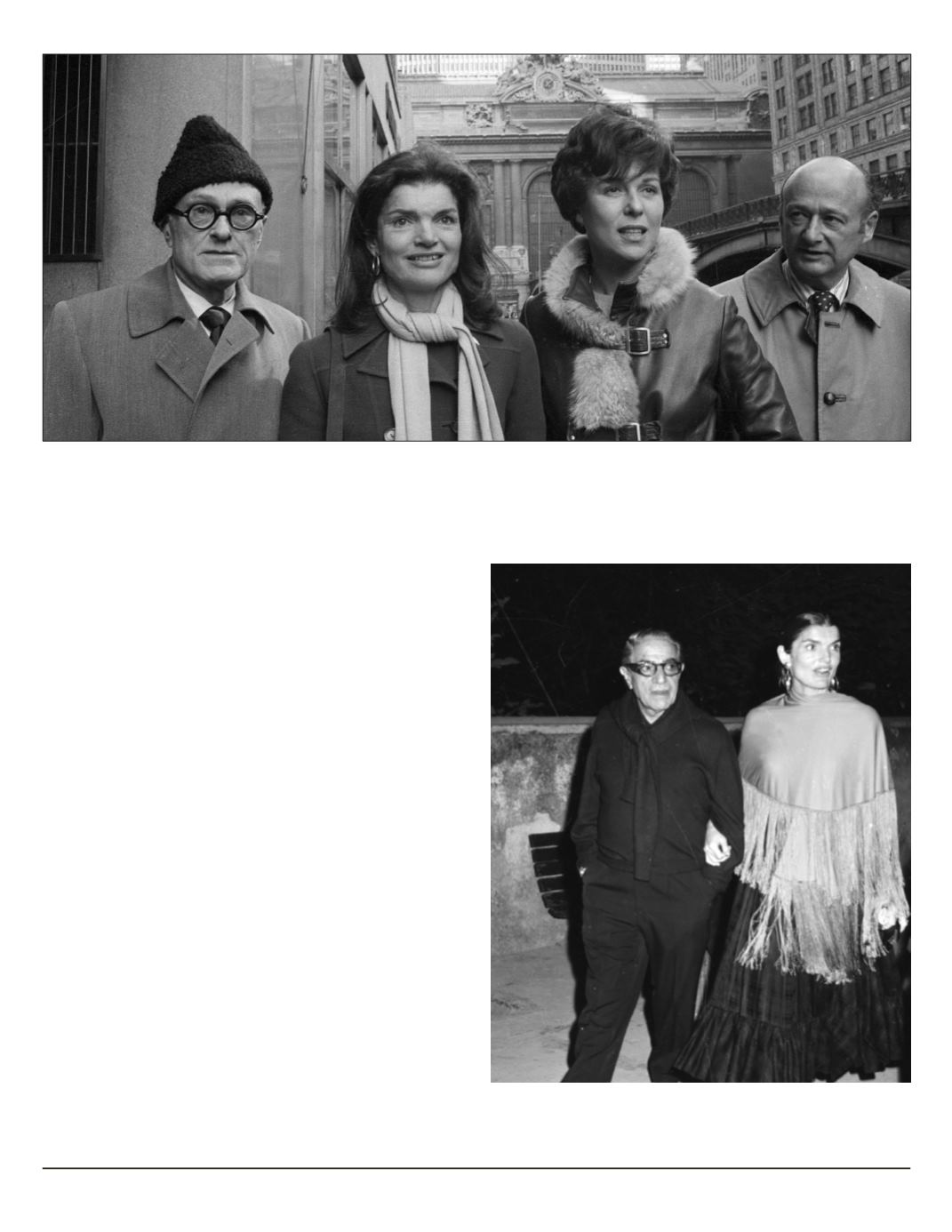 Time Lines 7
Shortly after Aristotle Onassis's death in 1975, she began
a career in book publishing, working first for Viking Press
and then for Doubleday, where she rose through the ranks
to become a full editor in 1982.
She edited nearly 50 books for Doubleday, ranging from
Michael Jackson's memoirs and a book about John Lennon
and Yoko Ono to a history of Russian costume.
"One of the things I like about publishing is that you
don't promote the editor -- you promote the book and the
author," she told Publishers Weekly.
The New York Times reported that n the years following
her second husband's death, she built a 19-room house on
375 acres of ocean-front land on Martha's Vineyard. She
spent considerable time there, as well as in Bernardsville,
N.J., where she rented a place and rode horses.
She remained a frequent subject of public speculation
among tabloids and a target for the paparazzi. She re-
turned to political life in support of JFK's younger brother
Edward as he prepared for his own presidential run.
She maintained her status as a global fashion icon, one
that she first earned as first lady, throughout her life. In
2012, Time Magazine included her on its All-Time 100
Fashion Icons list.
She died in 1993 of cancer. After a lifetime of tragic loss,
she was spared one other, her son John Kennedy Jr. died
just 6 years later in a plain crash on Martha's Vineyard.
"Every moment one lives is different from the other. The
good, the bad, hardship, the joy, the tragedy, love, and hap-
piness are all interwoven into one single, indescribable
whole that is called life," she said. "You cannot separate the
good from the bad. And perhaps there is no need to do so,
either."
Jacqueline Kennedy Onassis, left, and Bess Myerson, right, are flanked by architect Philip Johnson, with
glasses, and congressman Ed Koch as they leave NewYork's Grand Central after holding a news confer-
ence, on January 30, 1975. All four are supporters of the "Committee to Save Grand Central Station" which
is trying to prevent the construction of an office tower over the city's landmark train station. (AP Photo/
Harry Harris)
Aristotle Onassis and his wife Jacqueline are seen
during a visit to the Isle of Capri, Oct. 23, 1970. (AP
Photo)