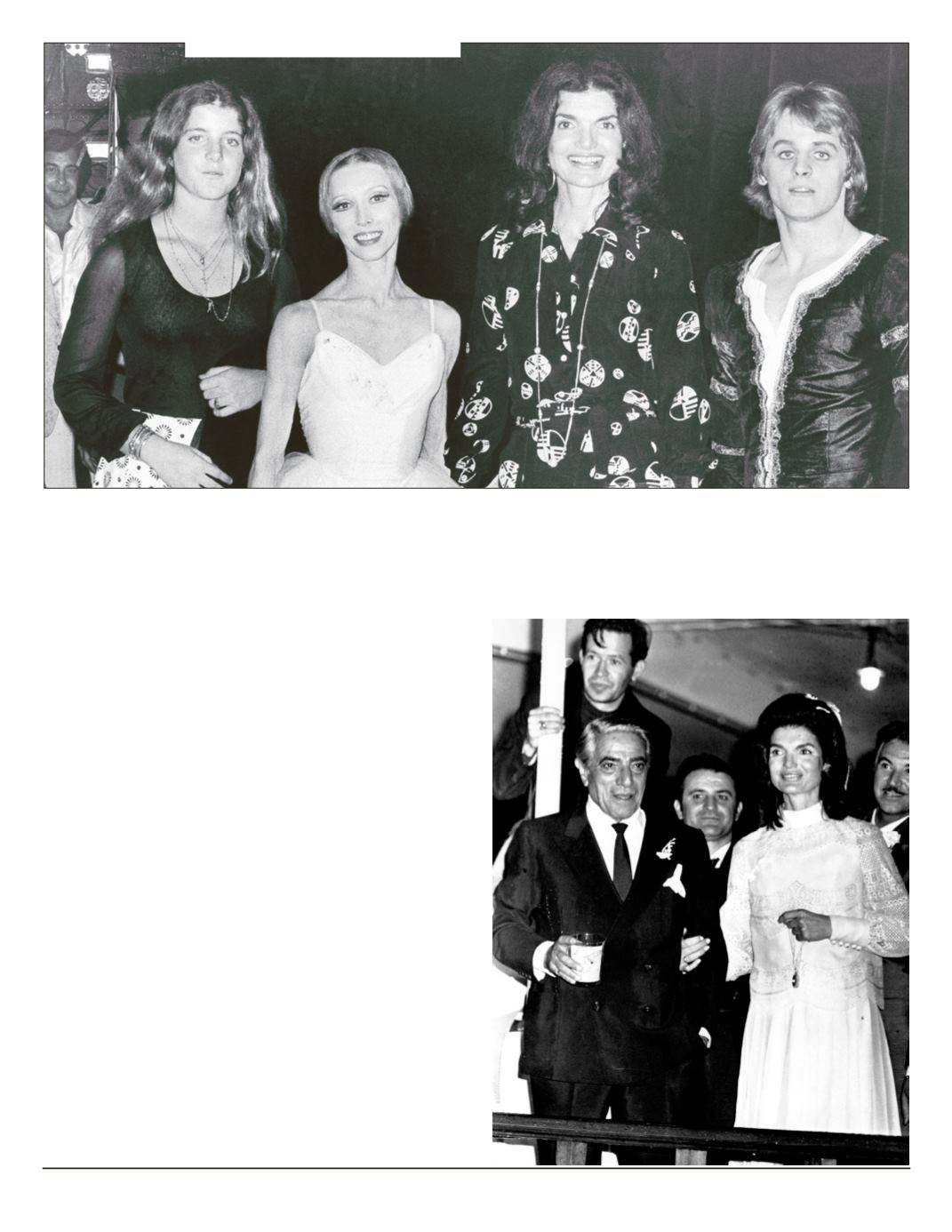 Time Lines 5
Ballet Star Mikhail Baryshnikov, right, poses with Caroline Kennedy, left, Natalia Makarova, Jacqueline
Onassis, second from right, following the Russian defectors first public ballet performance in the United
States, Saturday, July 27, 1974, NewYork. Mrs. Onassis and her daughter congratulated Baryshnikov on
after his performance with Miss Makarova in Giselle. (AP Photo/Dina Makarova)
Below: Aristotle Onassis and his new wife, Jacqueline Kennedy are seen on the yacht after their wedding
on Scorpios Island, Greece on Oct. 20, 1968. (AP Photo)
America's youngest First Lady, she was only 31 when
her husband was sworn in, her legacy was cemented in the
crushing days after her husband's assassination, which
took place in a convertible in Dallas was his wife seated
at his side.
Jacqueline Kennedy is widely credited with helping to
renovate the White House's public image.
"She really was the one who made over the White House
into a living stage -- not a museum -- but a stage where
American history and art were displayed," Hugh Sidey, who
was a White House correspondent for Time magazine told
the New York Times which reported he said she told him:
"I want to restore the White House to its original glory."
The enduring memory of Kennedy Onassis was her dig-
nity as she escorted her husband's body back to Washing-
ton still wearing the blood spattered pink suit.
Her public bravery in the face of unimaginable pain and
terror was a salve for the wounded and reeling nation.
After the assassination, the former first lady moved to
New York to raise her children, Caroline and John F. Ken-
nedy Jr. She maintained a close friendship with her broth-
er-in-law, Robert. And while in New York, Jackie developed
a friendship with Greek shipping magnate Aristotle Onas-
sis.
The tycoon soon proposed, she accepted and they were
wed in Greece on October 20 1968. At the time, she said it
was clear Kennedy's were being hunted and she wanted
to get her children out of the country and somewhere safe.
25 Years Ago - The Death of Jackie O