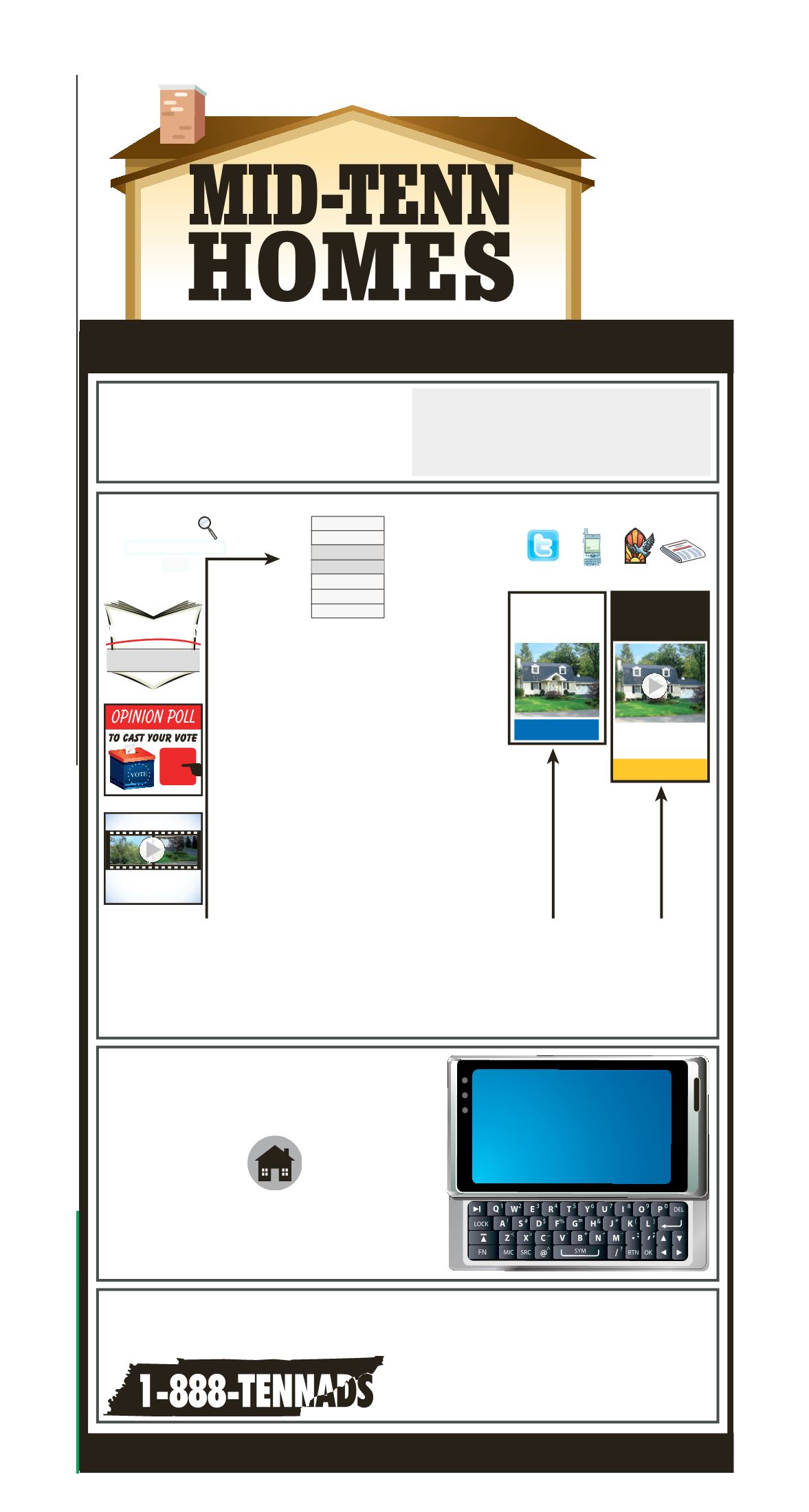 Mid-Tenn Homes
--October 16, 2019-November 5, 2019
—
3A
T
he entryway to a home is the
first thing guests experience
when coming inside. It also can
be the first place residents drop
their belongings after long days
at school or work. As a result, en-
tryways can quickly be consumed
by clutter. Taming such messes
takes a mixture of ingenuity and
planning.
Homeowners hoping to clear
their entryways of clutter must
first decide what they want to get
out of the space. Will it simply be
a decorative spot with photos and
other home decor on display? Or
is functionality the primary goal?
Once that decision has been
made, take inventory of which
items, such as shoes, keys, um-
brellas or coats, need to be in the
area, which don't (i.e., old mail).
To make things more organized,
rearrange the former while re-
moving the latter.
Next it is time to assess storage
needs and what's already avail-
able. User-friendly storage items
may need to be purchased to
make the room as functional as
possible. The following ideas also
can help bring order to the space.
Create
a command center. Cre-
ate a central location where items
are neat, orderly and within
reach. Use a bulletin board, dry-
erase calendar or something that
can house schedules and impor-
tant notices. Hooks can hold keys,
chargers and more.
Keep
it covered. Covered bins
can serve as a seating area and
also a place to store shoes, hats
and scarves.
Create
cabinet space. Store items
in cabinets so they are organized
but out of sight. This way belong-
ings are not just left on an entry-
way table.
Create
another drop zone. If the
entryway is too small to serve
its purpose, outfit another room
or area that also can do the job.
This can be a laundry room or
mudroom area. Install shelves, a
bench, cabinets and hooks. Just
be sure this space is close enough
to the entryway to make it useful.
Go
vertical. An easy way to keep
things neater is to remove items
from the floor and embrace ver-
tical storage. Shoe racks, hooks
for purses and a cabinet for coats
may do the trick.
Clutter can accumulate in entry-
ways. But some simple adjust-
ments can quickly revamp the
space to make it neater and much
more functional.
Corral entryway clutter
A
home is the most costly thing many
people will ever buy. The process
of buying a home can be both exciting
and nerve-wracking. One way to make
the process of buying a home go more
smoothly is to save enough money to put
down a substantial down payment.
Saving for a down payment on a home is
similar to saving for other items, only on
a far grander scale. Many nancial plan-
ners andÿrealÿestateprofessionals rec-
ommend prospective home buyers put
down no less than 20 percent of the total
cost of the home they're buying. Down
payments short of 20 percent will require
private mortgage insurance, or PMI. The
cost of PMI depends on a host of vari-
ables, but is generally between 0.3 and
1.5 percent of the original loan amount.
While plenty of homeowners pay PMI,
buyers who can afford to put down 20
percent can save themselves a consider-
able amount of money by doing so.
Down payments on a home tend to be
substantial, but the following are a few
strategies prospective home buyers can
employ to grow their savings with an eye
toward making a down payment on their
next home.
Decide
when you want to buy. The rst
step to buying a home begins when buy-
ers save their rst dollar for a down pay-
ment. Deciding when to buy can help
buyers develop a saving strategy. If buy-
ers decide they want to buy in ve years
away, they will have more time to build
their savings. If buyers want to buy with-
in a year, they will need to save more each
month, and those whose existing savings
fall far short of the 20 percent threshold
may have to accept paying PMI.
Prequalify
for a mortgage. Before buy-
ers even look for their new homes, they
should rst sit down with a mortgage
lender to determine how much a mort-
gage they will qualify for. Prequalify-
ing for a mortgage can make the home
buying process a lot easier, and it also
can give rst-time buyers an idea of
how much they can spend. Once lend-
ers prequalify prospective buyers, the
buyers can then do the simple math to
determine how much they will need to
put down. For example, preapproval
for a $300,000 loan means buyers will
have to put down $60,000 to meet the
20 percent down payment threshold. In
that example, buyers can put down less
than $60,000, but they will then have
to pay PMI. It's important for buyers to
understand that a down payment is not
the only costs they will have to come up
with when buying a home. Closing costs
and other fees will also need to be paid
by the buyers.
Examine
monthly expenses. Once buy-
ers learn how much mortgage they will
qualify for, they will then see how close
they are to buying a home. But prospec-
tive buyers of all means can save more
each month by examining their monthly
expenses and looking for ways to save.
Buyers can begin by looking over their
recent spending habits and then see-
ing where they can spend less. Cutting
back on luxuries and other unnecessary
spending can help buyers get closer to
buying their next home.
Avoid
risky investments. Some times
it's great to take risks when investing,
but risk should be avoided when saving
for a down payment on a home. Tradi-
tional vehicles like certicates of deposit,
or CDs, and savings accounts can ensure
the money buyers are saving for their
homes is protected and not subject to
market uctuations.
Saving enough to make a down payment
on a home can be accomplished if buy-
ers stay disciplined with regard to saving
and make sound nancial decisions.
How to save enough for a
down payment on a house
C
onventional wisdom suggests buying
a home makes more nancial sense
than renting. In many cases, this is true.
However, renting is sometimes a smarter
approach than buying.
As with any nancial decision, all of the
options and circumstances need to be
weighed before jumping in. Making a ma-
jor purchase requires doing your home-
work. The following are some reasons
why renting can be more benecial than
buying.
You
are young. The National Associa-
tion of Realtors says the typical rst-time
home buyer is 31-years-old. People who
are younger than that and uncertain
about their futures should not feel pres-
sured into buying simply because it is
presumed to be the "adult" thing to do.
Renting and feeling your nancial way,
which can include seeing how a job pans
out or where your budget lies after pay-
ing off debts, might make more nancial
sense than buying.
The
price-to-rent ratio is too high. Buy-
ing may seem like a wise idea, but it could
be causing you to spend more than neces-
sary, particularly if you check the price-
to-rent ratio and nd homes in your area
are not fairly priced. Figuring a P/R ra-
tio includes nding two similar houses
(or condos or apartments) where one is
for sale and the other is for rent. Divide
the sale price of the rst place by the an-
nual rent for the second. The end result
is the P/R ratio. So if a home sells for
$300,000, and there is a house around
the corner renting for $1,200 a month,
divide $300,000 by $14,400 (the annual
cost of renting). The ratio would be 20.8.
A rent ratio above 20 means the cost of
home ownership will exceed the cost of
renting. The higher the P/R ratio, the
more sense it makes to rent instead of
buy.
Home
prices continue to rise. Some
people nd themselves being priced out
of certain neighborhoods or cities. Re-
altyTrac recently analyzed median wage
and home-price growth between 2012
and 2014, ultimately nding that, while
the typical worker's earnings increased a
meager 0.3 percent during the study pe-
riod, median house prices were up by 17
percent. Wages have not recovered from
the Great Recession as quickly as home
prices have, and some people may need
to rent out of necessity.
A
market shortage makes it harder to
nd an affordable home. The number of
homes available for sale in many areas
of the country has fallen below the num-
ber that realtors say is required for the
market to be in balance. Therefore, even
when a home becomes available, demand
drives the price up to where it may not be
affordable or scally smart to purchase.
In such instances, renting may be the
best option.
You
don't meet the buying criteria.
Don't buy a home based on market con-
ditions or pressure from others. Instead,
buy when you're nancially ready. This
means being out of debt; having between
three and six months of expenses in an
emergency fund; enough cash for a 10
to 20 percent down payment on a xed
mortgage; and when your mortgage pay-
ment will be no more than 25 percent of
your monthly take-home pay, according
to nancial expert Dave Ramsay.
Renting can be a smart move in many
instances. Only when individuals are -
nancially and emotionally ready to buy
should they begin searching for their rst
homes.
When renting can be a smart decision