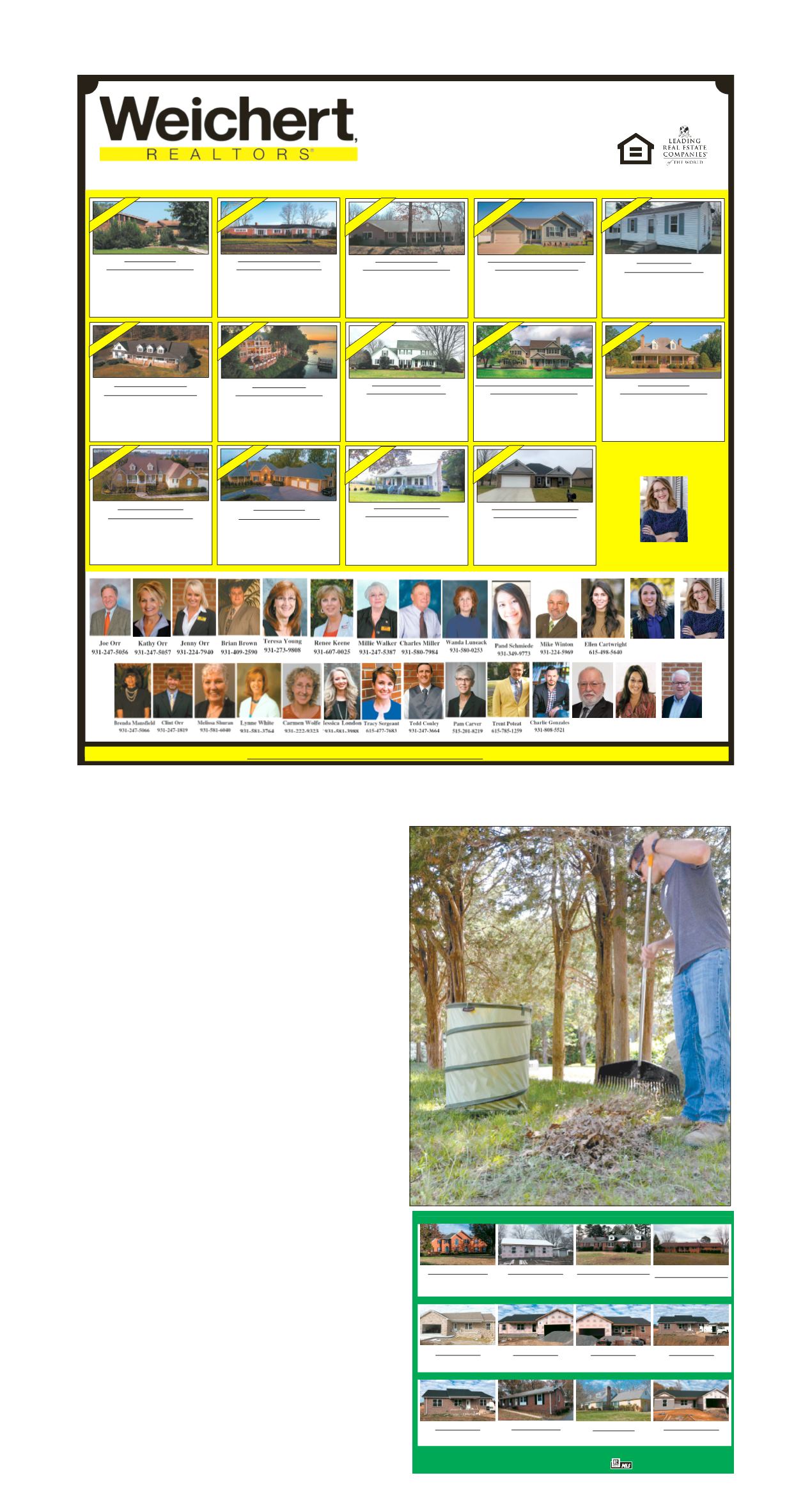 2A
—
Mid-Tenn Homes
--August 21, 2019-September 3, 2019
W
hen
selling
their homes,
h o m e o w n -
ers can employ several
strategies in an effort to
drum up interest among
potential buyers. One
such strategy is to host
an open house, which in-
vites prospective buyers
to tour the property.
Realtors have long
used open houses to in-
troduce properties to
the market, and a well-
planned open house can
help sellers generate nu-
merous offers in a single
day. Whether working
with a realtor or list-
ing homes on their own,
homeowners can follow a
few simple tips to ensure
their open house is a suc-
cess.
Generate
publicity
online. Nowadays many
prospective home buyers
do the bulk of their re-
search via their comput-
ers and devices. By adver-
tising their open houses
online, sellers have the
potential to reach a wide
array of buyers. Many
real estate agents employ
sites such as Zillow.com
and Trulia.com to pro-
mote open houses and
showcase properties, so
sellers can make sure
their agents are taking
advantage of these wildly
popular sites. Some even
allow sellers to list their
homes on apps that buy-
ers can peruse on their
smartphones.
Generate
public-
ity in traditional ways as
well. Traditional public-
ity should not be over-
looked when promoting
an open house. A $5
"Open House" lawn sign
is an effective and inex-
pensive way to attract
buyers who are driving
through desirable neigh-
borhoods looking for
their next homes. While
the Internet is a valu-
able resource to promote
your open house, the
sheer volume of online
listings can make it hard
to reach potential buy-
ers. A traditional lawn
sign and a listing in your
local newspaper are bud-
get-friendly promotional
opportunities that can
generate interest in your
open house.
Invite your neigh-
bors. Neighbors can be
great salesmen for your
home and the commu-
nity where you live. In-
vite friendly neighbors
to your open house and
encourage them to chat
with prospective buy-
ers. Buyers will appreci-
ate neighbors' rsthand
knowledge about the
community, and their
friendliness can help to
create a strong rst im-
pression that increases
buyer interest in your
home.
Consider
some
changes to your home
decor. When hosting an
open house, you might
not need to go so far as
to stage your home, but
you may want to make
some changes to the de-
cor to make your home
more neutral and ap-
pealing to buyers from
all walks of life. Remove
any potentially contro-
versial artwork or deco-
rative items, replacing
them with more neutral
items that won't offend
or distract any potential
buyers.
Leave the hosting to
the professionals. Un-
less you're selling the
home on your own, re-
sist the temptation to
attend your open house.
Let your realtor do the
work. Your absence can
make it easier for poten-
tial buyers to see them-
selves in your home,
while your presence
may make them un-
comfortable or hesitant
to explore the property
and ask any questions.
When hosting an
open house, sellers can
take several steps to
make their homes more
appealing to buyers.
LAND & LOTS & COMMERCIAL PROPERTIES FOR LEASE OR SALE
0ShortSpringsRd :
11.93 acres in RE Lee school district.Development opportunity.$300's.
400N JacksonSt :
0.380 acres,5000SqFt.FormerlyTullahomaTireandBrake,TirePro.$285,000
land located in theNormandy Lake area.$39,500
Lots 1OldTullahoma-ShelbyvilleHwy
–
Residential tractw5.77acres inMC--$41,180
AllCreekstoneLots --priced in the20's
0Setters LnW–
0.83acre.Beautifulwooded lot onLakeTullahoma.$99,900
1ShortSpringsRd -
ACREAGE.50acres inTullahoma city limits.RE LeeSchoolDistrict.$935,000
6RileyCreekRd –
NormandyTn 6.01 acres--$72,500
468 JDNeilRd -
.25 acre building lot inTullahoma.$15,000
1BN. Jackson –
$785,000CommercialPrime Lot.
107 LedfordMillRd -
OfficeBldg,$389,900, $2500NNN,Approv.3400 sqft
2120N. JacksonSt. -
OfficeBldg, $2500 Lease,High visibility, formallymedical
6 LakeviewSt. Lot 6
EstillSprings,
$9,800
KimDonnaS/D
0TurkeyCreek Loop
2.29acres
$18,500,Near TimsFord Lake
0Kings Lane:
$190's,
commercial building lot
100Hunters Lane:
$1,295,000,
Medical office building
1411NWashingtonSt:
$550's,
New climate controlled storage building
2228N JacksonSt:
$130,000,
commercial lot
601WmNorthernBlvd:
$83,750,
close to airport
0Cedar Lane-
$385-zonedR3,
high visibility-
$380's
Lots 82-83HuffmanPark-RidgevilleS/D-
$75,000
108SR,Gruetli Laager-6 acres-
$24,900
Residential lot -
$19,900
WoodburyHwy1.6 acres next to I024
$370's
1956 N Jackson
3925 SF $3000 K A Month
GeorgeCourt
-
Prime corner lot inBlueCreek.
$27,500
310 E Lincoln -OfficeSpace $370's
205NW
AtlanticSt:Over
16,000sfwith 7600sfwarehouse-$650,000
660BibleCrossingRd:
Appr
ox120 acresw/
barn and ponds.Can be subdivided.Calloffice formore details.
LakeHills/Ovoc
a LakeRd:
Prim
ebuilding property! 3 tracts.Calloffice for details.
209 EMcL
eanSt-Manches
ter-
Commercial space for Lease-$2000/month
220 EMainSt-
Manchester-historic commercialoffice space for Lease-$2500/month
509A/509BN JacksonSt-office space for lease
BibleCrossingRd:
119 acres in FranklinCounty-Lots of possibilities!Can be divided.Call office for details.
708 S Jefferson St
New
construction
home
in
Tullahoma, stainless whirlpool
stove/mcrowave/dishwasher,
prefinished hardwood flooring, tile
in bathrooms/utility room, patio.
$149,900
0,1, )$50
465 Oakwood Ln
465 Oakwood Lane: Amazing 2.7 +/- mini
farm minutes from Tims Ford Lake with
2BR/2BA, lots of cedar and pine, 24x40
Pole Barn, bathrooms have tile, 24x24
carport, fenced for animals if desired,
INTERIOR LOFT AREA, new stainless
appliances, Center Grove community. Very
unique property! $170's.
21 /$.( 78//$+20$
%5 %$ 322/
914 Leona St
New Construction with prefinished
hardwood, tile in bathrooms/utility
room, , Stainless Whirlpool stove/
microwave,
patio,
measurements
approx-measure if important.
$147,000
6RXWK -DFNVRQ 6W 7XOODKRPD 71
Harton Realty Company
www.hartonrealty.com
± ±
1165 Short Springs Rd
Beautiful setting for this all brick home
featuring 2-car garage, new privacy
fenced, covered front porch, deck, split
bedroom floor plan, open great room/
kitchen/dining room, wood & tile floors,
custom kitchen cabinets w/granite
counter tops/raised bar area.Master
bath separate tiled shower, walk in
closets in all bdrms. $189,900
506 W Warren St
Maintained home ready for new
owner under $80k! 2 BR/1BA, deck,
nice back yard, walking distance to
elementary school and shopping,
updated electrical, newer roof.
$79,900
%($87,)8/ 6(77,1*
111 Point Cir
111 Point Drive: Breathtaking view of Lake
Tullahoma with an abundance of windows,
granite, hardwood, lots of crown molding, 2
fireplaces, 2 sunrooms, balcony overlooking
lake, master bedrooms on two levels, renovated
large tile shower/sep whirlpool tub. 3 car
carport, irrigation system. Amazing lot! Must
see! $470's
208 OLD FORT ST Lot 1963
Beautiful 4 BR/2BA remodeled w/open
floor plan, new custom cabinetry, granite
counters, new appliances, new lighting.
NO carpet in house. DR w/gas FP w/stone
surround. Master Bath w/walk-in tiled
shower & linen closet. Oversized 2 car
detached garage, screened patio. Storage
bldg w/electricity.$210's.
0$,17$,1(' +20(
704 Garner St
New construction, 3 BR 2 BA,
stainless Whirlpool stove/microwave,
prefinsihed hardwood, tile, patio,
ready for quick sale, minutes from
Nissan Decherd! $113,900
713 N College St
Very well maintained 4BR/2.5BA ranch-
style home on a very large lot w/new
privacy fenced backyard,inground pool
& covered backyard deck. Outdoor
entertainment bldg, storage/playhouse &
storage bldg all w/electricity & much more!
No carpeting throughout. Spacious rooms.
Updated bathrooms. $219,900
1(: &216758&7,21
2105 Ovoca Rd
New construction 3BR/2BA home w/
hardwood & tile floors, custom cabinets,
granite counters, bonus room, sun room,
tile shower, covered patio, 6 ft kitchen
bar, and more. Limited time to still pick
your colors! $275,900
6(77/(56 75$&( 6 '
113 Stagecoach Pass
4/5 BR/3 Full/2 Half BA w/ hardwood and
tile, custom kitchen cabinets, granite,
SS appliances, built-ins, crown molding,
wainscoting, new paint, soaring ceilings, gas
log FP, multiple bonus rooms, office w/ glass
french doors, Master w/ double trey ceiling,
tile shower, privacy fence, covered porch/
patio. $440's
202 Amherst Dr Lot 35
Beautiful one owner home w/ wood/tile
floors, granite in kitchen & baths, great
rm w/FP, formal DR, office or sitting rm,
Master BR w-sitting area, walk-in tiled
shower. 20x40 inground heated pool, hot
tub, 2 level deck, black aluminum fence.
Manicured lawn! $380's
0$&21 0$125 %5 %$
149 Anderton Drive
Beautiful 4BR/3BA townhouse in Twin Creeks
Village. Hardwood & tile throughout, granite
counter tops, screened porch. Open LR, DR
& Kitchen area w/stacked stone fireplace.
Downstairs Master, tiled shower, double vanity,
walk-in closet. DS Guest BR/BA w/combo tub/
shower. 2 BRs up. PRIVATE backyard! Close to
clubhouse, pool & marina! $350's
/2&$7,21 /2&$7,21 /2&$7,21
1($5 7,06 )25' : $&5(6
3523 Awalt Rd
Minutes from Holiday Marina/Tims Ford
Lake/ Bluegill Grill, wonderful 4 BR brick
home with 4 +/- acres , 4 car detached
garage/workshop/full
bath/separate
rec house w/fireplace, updated kitchen
with lots of tile/cabinets/hardwood
throughout, sunroom, workshop is
currently a cabinet shop. $350,000
1(: /,67,1* ,1 %/8( &5((. 6 '
200 George Lane
4BR/2.5BA + BonusRoom. Large Family Rm
w/fireplace, high ceilings, arched doorways,
hardwood flooring, Kitchen w/ granite, tile
backsplash, large Bonus Rm, 1 car attached
garage/2 car detached, concrete drive.
Covered back porch, patio w/brick fireplace.
Some recent updates. $330's.
5( /(( 6&+22/ ',675,&7
325 Druid ln
Updated home in desirable Robert
E Lee school district, 3 BR, 1.5
BA, lots of tile and hardwood,
prefinished hardwood in DR and
LR, converted garage has been
made into a den for extra gathering
space, kitchen and flooring has
been remodeled. $140's
1(: &216758&7,21
1(: &216758&7,21
1(: &216758&7,21
*5($7 /2&$7,21
PLEASE VISIT US AT
WWW.WEICHERTJOEORR.COM
TO VIEW ALL OF OUR LISTINGS
LAND/LOTS
CHARACTER & CHARM
IMMACULATE HOME
TAKE A LOOK
GORGEOUS HOME
&DVFDGH 'U
0/6
:LQFKHVWHU
± &UDIWVPDQ VW\OH %5 %$
KRPH IHDW ERQXV URRP RIILFH VWRQH
ILUHSODFH +: IORRUV TXDUW] FRXQWHUWRSV
JDV FRRN WRS EDU VWRRO DUHD FXVWRP
IL[WXUHV PRUH
6HWWHUV /Q (
0/6
7XOODKRPD
± ,PPDFXODWH %5 %$
KRPH RQ /DNH 7XOODKRPD :DON ULJKW
RXW WR WKH ZDWHU RU HQMR\ WKH ODNH
EUHH]H IURP WKH PDLQ IORRU EDOFRQ\
/DNH +LOOV 5G
0/6
7XOODKRPD ±
7KLV %5 %$ KRPH ZLOO
VWHDO \RXU KHDUW 7KLV KRPH LV D VSOLW OHYHO
KRPH ZLWK +: RU WLOH IORRU Z D ZRRG
EXUQLQJ VWRQH )3 XSGDWHG LVODQG NLWFKHQ
JRUJHRXV ODS SRRO EHDXWLIXO ODQGVFDSLQJ
PRUH RQ DSSUR[
DFUHV
5RVHKDYHQ &W
0/6
7XOODKRPD ±
&XVWRP EXLOW LPPDFXODWH
%5 %$ KRPH Z RYHU VL]HG JDUDJH
FURZQ PROGLQJ +: IORRULQJ 66
DSSOLDQFHV FKHUU\ FDELQHWV VFUHHQHG
SRUFK SDWLR GHFN PRUH
5RFN &UHHN 5G
0/6
(VWLOO 6SULQJV ±
%HDXWLIXO %5 %$ KRPH
IHDW OLYLQJ URRP Z YDXOWHG FHLOLQJV ODUJH
0%5 Z IXOO %5 Z ZDON LQ FORVHWV GRXEOH
YDQLWLHV WLOH VKRZHU NLWFKHQ EUHDNIDVW
DUHD ODUJH SDQWU\ RIILFH +: IORRUV LQ
JURXQG SRRO
PRUH RQ DSSUR[ DFUHV
%HOO %XFNOH :DUWUDFH 5G
0/6
:DUWUDFH ±
%HDXWLIXO %5 %$ KRPH IHDW
KRUVH VWDOO EDUQ FDU GHWDFKHG JDUDJH
VKRS UHWHQWLRQ SRQG IHQFHG LQ EDFN \DUG
VWRUDJH VKHG VXQ URRP +9$& QHZ
ZDWHU KHDWHU PRUH QHVWOHG RQ DSSUR[
DFUHV
6W $QGUHZV 3O
0/6
7XOODKRPD ±
*RUJHRXV DOO EULFN
%5 %$ KRPH Z DWWDFKHG FDU
JDUDJH GHWDFKHG FDU JDUDJH Z VWXGLR
XSVWDLUV IHQFHG EDFN \DUG SODQWDWLRQ
VKXWWHUV JDV ORJ )3 PRUH
RECENTLY REDUCED
RECENTLY REDUCED
7KRPDVZRRG &KDVH
0/6
7XOODKRPD ±
%HDXWLIXO EULFN RU
%5 %$ KRPH IHDW /5 '5
'HQ Z JDV )3 QHZ ZLQGRZV IUHVK
SDLQW ODUJH FDU JDUDJH PRUH LQ
%URRNILHOG (VWDWHV
:HVWVLGH 'U
0/6
7XOODKRPD ±
1LFH EULFN %5 %$
KRPH IHDW OLYLQJ URRP NLWFKHQ
+: IORRUV XWLOLW\ URRP GHQ
)3 IHQFHG \DUG EDUQ PRUH RQ
DSSUR[
DFUHV
NEW CONSTRUCTION
CUSTOM BUILT HOME
CHECK IT OUT
LUXURY LISTING
+HULWDJH 3UHVHUYH 6XEGLYLVLRQ
0XOWLSOH 0/6
N 5DQJH
0DQFKHVWHU ±
$OO QHZ FRQVWUXFWLRQ
%5 %$ FDU JDUDJH KRPHV IW +: WLOH
YDXOWHG FHLOLQJV JUDQLWH JUHDW ORFDWLRQ
SULYDWH VHWWLQJ PRUH %HQ /RPDQ )LEHU
2SWLF &RQQHFWLYLW\ 6HOOHUV ZLOO SD\
WRZDUG FORVLQJ FRVWV
+Z\ (
0/6
6KHOE\YLOOH ±
,PPDFXODWH %5 %$ KRPH
VXUURXQGHG E\ JRUJHRXV YLHZV IHDWXULQJ D
FUHHN DSW RYHU FDU JDUDJH JDWHG HQWUDQFH
VFUHHQHG LQ SRUFK Z WRQJXH DQG JURRYH
FHLOLQJV DQG PRUH RQ DSSUR[ DFUHV LQ WKH
5DXV &RPPXQLW\
A MUST SEE
OPEN HOUSE
OPEN HOUSE
OPEN HOUSE
OPEN HOUSE
6KDURQGDOH 'U
0/6
7XOODKRPD ±
9HU\ QLFH %5 %$
VSDFLRXV EULFN KRPH IHDW GHQ Z
)3 EHDXWLIXO VXQ URRP Z FDWKHGUDO
FHLOLQJV HDW LQ NLWFKHQ Z LVODQG
ZRQGHUIXO OD\RXW
PRUH
%-¶V /DQGLQJ
0/6
(VWLOO 6SULQJV ±
7RWDOO\ UHPRGHOHG
KRPH PLQXWHV IURP WKH ODNH
%5 %$ KRPH Z QHZ NLWFKHQ 66
DSSOLDQFHV QHZ EDWKV QHZ IORRULQJ
QHZ ODQGVFDSLQJ QHZ VKXWWHUV
RYHUVL]HG JDUDJH PRUH
+XQWLQJWRQ 3O
0/6
7XOODKRPD ±
5HQRYDWHG %5 %$
KRPH Z ERQXV UP RSHQ IORRU SODQ DOO
QHZ IORRULQJ QR FDUSHW DOO QHZ OLJKWLQJ
UHPRGHOHG LVODQG NLWFKHQ QHZ FXVWRP
FDELQHWU\ 66 DSSOLDQFHV VFUHHQHG LQ
SRUFK ZUDS DURXQG SRUFK PRUH
Sunday, August 25th from 1-3 pm Sunday, August 25th from 1-3 pm Sunday, August 25th from 1-3 pm Sunday, August 25th from 1-3 pm
%-¶V /DQGLQJ
0/6
(VWLOO 6SULQJV ±
8QEHOLHYDEOH
UHPRGHOHG ODNH KRPH %5 %$
KRPH Z DOO QHZ XSGDWHV IW GRFN
HOHFWULF WUDP QHZ URRI ZLQGRZV
LQWHULRU WRWDOO\ SDLQWHG XSGDWHG
NLWFKHQ PRUH
+DUWRQ %OYG 0/6
7XOODKRPD :RQGHUIXO DSSUR[ DFUH ORW WR EXLOG \RXU GUHDP KRPH RQ :RRGHG ORW WKDW LV
FORVH WR 7XOODKRPD 1R FLW\ WD[HV &ORVH WR VKRSSLQJ DQG $('& $LU )RUFH %DVH YHU\ SULYDWH
+DUWRQ %OYG 0/6
7XOODKRPD 1LFH DSSUR[ DFUH ORW JUHDW IRU EXLOGLQJ \RXU GUHDP KRPH 0LQXWHV WR 7XOODKRPD
VKRSSLQJ FORVH WR WKH $('& $LU )RUFH %DVH :DWHU DQG HOHFWULFLW\ DUH DYDLODEOH DW WKH VWUHHW
/DZV 5G 7UDFWV
0/6
0F0LQYLOOH $GMDFHQW ORWV RQ /DZV 5G 7UDFW LV DSSUR[
DFUHV 7UDFW LV DSSUR[
DFUHV :DWHU DYDLODEOH IURP XWLOLW\ GLVWULFW
Host a successful open house