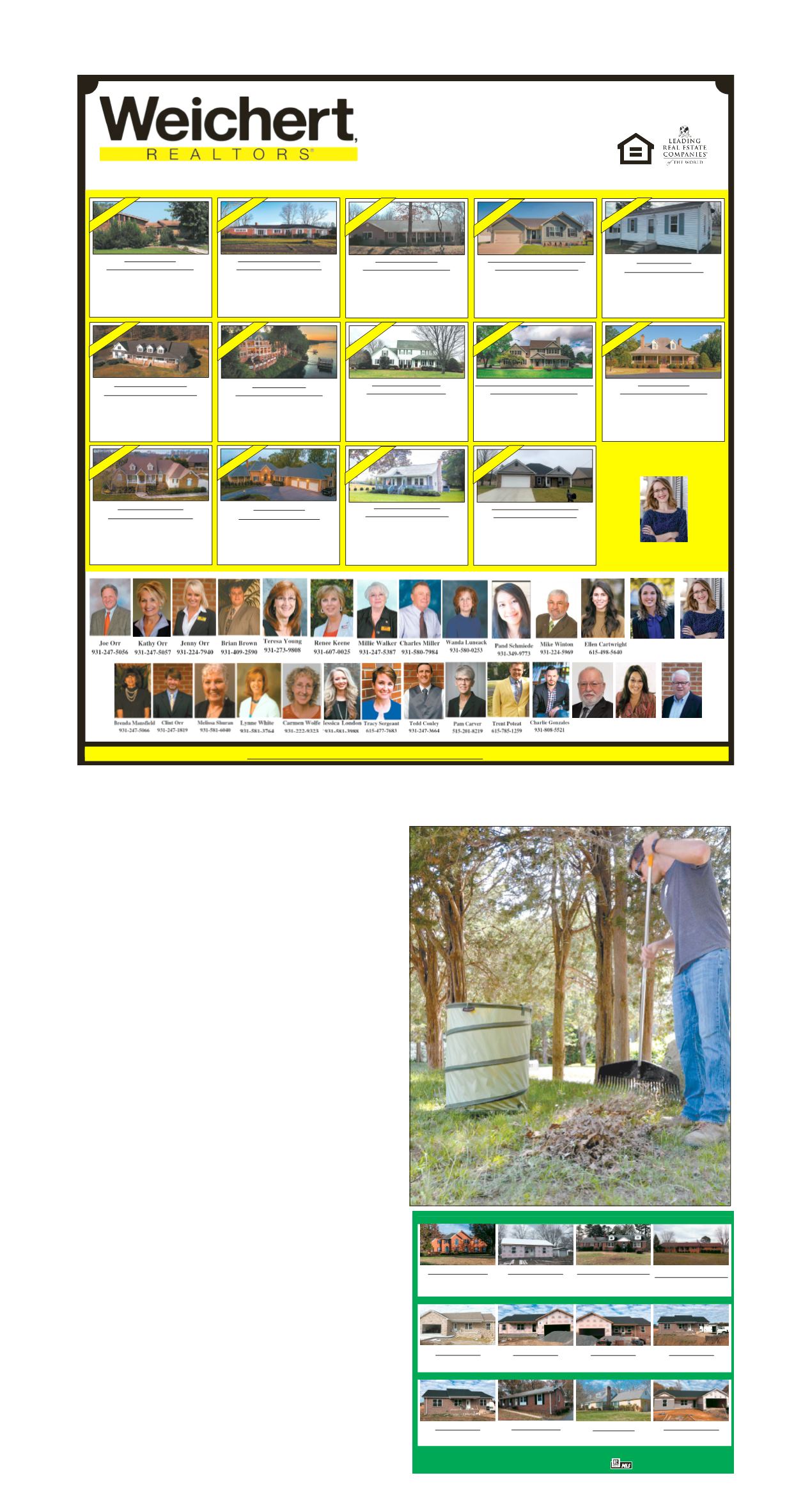 2A
—
Mid-Tenn Homes
--December 12, 2018-December 25, 2018
LAND & LOTS & COMMERCIAL PROPERTIES FOR LEASE OR SALE
0ShortSpringsRd :
11.93acres inRE Lee schooldistrict.Development opportunity.$300's.
Lots 1,5 -OldTullahoma-ShelbyvilleRd:
5 residential tracts ranging in size from 5 acres-6.2
acres inMooreCounty.$45,000-$56,000.Perkedwith some restrictions.
107 LedfordMillRd.
-Office Building - $400's sf. - semi furnished-$400's or $3000/mo.
AllCreekstone lotspriced at $25,000
315NWAtlanticSt:
6000 sf available forLease/$4660/month - could subdivide
2284N JacksonSt:
Vacant land --1.87acres-citywater/seweravailable-candivide
2228N JacksonSt:
2.52 acres ofundeveloped landon
NJacksonSt.City
water/seweravailable.$250's
400N JacksonSt :
0.380acres, 5000SqFt.FormerlyTullahomaTire andBrake,TirePro.$295,000
0Setters LnW:
0.830 acres.Beautifulwooded lakefront loton LakeTullahoma.$99,900
108Princeton Ln Lot 5:
0.570 acres.Beautifulbuilding lot ingreat subdivision located close to town.$24,500
0WardsChapelRd:
3.980 acres.Beautiful secluded land located in theNormandy Lake area.$39,500
1ShortSpringsRd:
50.000 acres.ACREAGE! InTullahoma city limits inRobertE LeeSchoolDistrict.$935,000
41 ThreeForksBridgeRd:
41 acres.Beautiful farm, restricted, 15min toTullahomaorShelbyville,nearNormandyLake.$339,700
6RileyCreekRd
,NormandyTN 37360 6.010Acres,0SqFt .$87,500
468 JDNeilRd
-nice bldg lot.$15K
0Craighead -$42,800
9(5< 35,9$7( /2&$7,21
(67,// 635,1*6
(67,// 635,1*6
1(: &216758&7,21
197 Riddle Road
3BR/3BA house on 6 acres with finished
basement, 42x20 salt water pool, open kitchen,
den, covered deck/patio, utility room, concrete
driveway, 30x50 shop/garage. Minutes from
Tullahoma or Winchester. Very private location.
Priced in the $280's.
162 Rebecca Ln W Lot 22
Open floor plan NEW CONSTRUCTION,
prefinished hardwood, stainless whirlpool
appliances, Sun room, tile, custom cabinets,
kitchen island, split bedroom concept, convenient
location to elementary school and more--Similar
Home to be built - $169,900
1121 Elkins Street
3BR/2BA Brick Home Near Tims Ford Lake,
large lot, large Florida Rm, paneled Den w/
FP, LR 22x12, 2 car attached/1 car detached
garage/workshop, storage bldg, deck, Roof-3
months, HVAC-2016, updated windows and
more. $140's
2105 Ovoca Rd Lot 1
New construction 3BR/2BA home w/ hardwood
& tile floors, custom cabinets, granite
counters, bonus room, sun room, tile shower,
covered patio, 6 ft kitchen bar, and more.
Limited time to still pick your colors. $275,900
1(: &216758&7,21
%522.),(/' 6 '
%5 %$ 6)
432 Noblitt Ln
New construction, 3 BR, 2 BA home,
custom cabinets, stainless Whirlpool
appliances, hardwood, custom tile,
patio. $140's
House will be similar to picture in this ad.
209 Huntington Drive
4BR/3.5BA in Brookfield S/D, hickory
hardwood flooring downstairs, trey
ceilings, fireplace, remodeled kitchen w/
granite counter tops and abundant cabinet
space, double ovens, large rooms, fluted
trim, office w/built in bookshelves, privacy
fenced back yard, storage building. Master
down! $304,900
119 Lake Crest LN Lot 36
3/4 BR home w/3.5 BA- owned by only 2 families
& non-smoking! Situated on a lot backing up to
a spring fed creek & offers: lg LR w/gas FP w/
new surround: eat-in KIT w/SS, newer appliances,
granite counters & new backsplash w/tile flooring;
formal DR w/HW & bay window; walk-out partially
finished basement; 2-car garage & circular drive.
$259,900
6RXWK -DFNVRQ 6W 7XOODKRPD 71
Harton Realty Company
www.hartonrealty.com
± ±
%5 %$ 6)
287'225 *5,//,1*$5($ 3(5*2/$
430 Brunswick Ct
Scott Gregory built home - granite
counter tops,custom cabinets, hardwood/
tile throughout, fireplace, large master w/
tiled shower, 2 multipurpose rooms, safe
room, golf cart storage/workshop garage
in basement, Western cedar screened
porch. Many custom features! Priced in
lower $400's!
560 Parkway Rd
Renovated home situated on a park like
setting outside of city limits ...... Many
unique features inside and outside! In-
ground pool, cabana, detached 3 bay
garage with workshop. Many unique areas
inside and outside!
Priced in the 460's
%5 %$ :,7+ %$6(0(17
5$5( ),1' 21 $&5(6
400 Normandy Road
Soaring ceilings, hardwood, granite, many
architectural details, outside kitchen, 3
fireplaces, natural creek, workshop, pond with
terrace, dozier house, open barn, hay barn. Way
too many amenities to list here! $2,495,000.
Qualified Buyers only!
(;48,6,7( (67$7(a $&5(6
1101 E Grundy St
Manufactured home on permanent
foundation. Very clean with
some updates, new stove. Great
investment property! Priced to sell
in the $60's.
1104 Country Club Dr Lot 93
Renovated in 2017, this spacious all brick
4BR/2.5BA home has much to offer including:
vaulted ceilings, HW floors, neutral color
palette throughout, spacious Master Suite
w/walk-in tiled shower & garden tub, eat-
in Kitchen w/granite countertops, gas FP, 2
raised concrete porches, concrete patio w/
outdoor grilling area & Pergola, oversized
concrete drive, lg backyard, Roof- 2017 &
more! $279,900
OPEN HOUSE SUNDAY, DEC 16TH , 1 - 2 : 30
51 Regalwood Dr Manchester, TN
Amazing 4 BR/2.5 BA Smart home with convenient location,
remodeled kitchen w/ granite, fireplace in MBR, and in LR, crown
molding, chair rail, recessed lighting, multiple trey ceilings, tile,
attached and detached garages, private back yard, nicely landscaped,
and more! $340's.
Directions: Hwy 55 toward Tullahoma, left on
Oak Dr, Right on Hills Chapel Rd, right into Regalwood S/D, house
is on left the left with sign.
PLEASE VISIT US AT
WWW.WEICHERTJOEORR.COM
TO VIEW ALL OF OUR LISTINGS
+ROGHUV &RYH
0/6
:LQFKHVWHU
± $OO EULFN %5 %$
KRPH IHDW GHQ Z )3 '5 NLWFKHQ
EUHDNIDVW QRRN IORULGD URRP ERQXV
URRP FRYHUHG SDWLR FDUSRUW FRYHUHG
IURQW SRUFK PRUH
OPEN HOUSE
+LOOFUHVW 'U
0/6
7XOODKRPD
± 6SDFLRXV %5 %$
KRPH LQ HVWDEOLVKHG QHLJKERUKRRG
IHDWXULQJ QHZ SDLQW QHZ IORRULQJ
QHZHU +9$& DQG ZLQGRZV QLFH
\DUG LPPDFXODWH VKRS KREE\ URRP
PRUH
OPEN HOUSE
Sunday, December 16th from 1-3 pm Sunday, December 16th from 1-3 pm
6HWWHUV /Q
0/6
7XOODKRPD ±
,PPDFXODWH
%5 %$ KRPH RQ /DNH
7XOODKRPD :DON ULJKW RXW WR WKH
ZDWHU RU HQR\ WKH ODNH EUHH]H
IURP WKH PDLQ IORRU EDOFRQ\
.HQVLQJWRQ /Q
0/6
7XOODKRPD ±
*RUJHRXV FXVWRP EXLOW
%5 %$ KRPH RQ WKH QXPEHU
WHH ER[ RI /*&&*& IHDW GHWDFKHG
FDU JDUDJH FRXUW\DUG FKHI¶V JRXUPHW
NLWFKHQ JUDQLWH FRXQWHUWRSV PRUH
DOO RQ DSSUR[
DFUHV
+XQWLQJWRQ 'U 1
0/6
:LQFKHVWHU
± 1HZ 3ULFH
0RWLYDWHG VHOOHU (DV\ ZDON
GRZQ WR WKH ZDWHU ZLWK WKLV
%5 %$ KRPH IHDW UHQRYDWHG
NLWFKHQ
66 DSSOLDQFHV
UHQRYDWHG PDVWHU EDWK YHU\ RSHQ
IORRU SODQ PRUH
$PKHUVW 'U
0/6
7XOODKRPD
± %5 %$
KRPH Z GRZQVWDLUV PDVWHU
%5 )3 EXLOW LQ FDELQHWV
JUDQLWH FRXQWHU WRSV RIILFH
GLQLQJ URRP SOD\ URRP
PRUH
0RWORZ &ROOHJH 5G
0/6
1RUPDQG\
±3HDFHIXO
VHUHQH
VHWWLQJ ZLWK WKLV %5 %$
KRPH RQ DSSUR[
DFUHV
+RPH IHDW ERQXV URRP DWWDFKHG
JDUDJH GHWDFKHG ZRUNVKRS
SULYDWH EDFN \DUG PRUH
$QJXV /Q
0/6
0DQFKHVWHU
±%HDXWLIXO
%5 %$ KRPH IHDW +:
WKURXJKRXW WLOH LQ ZHW DUHDV
JUDQLWH FRXQWHUWRSV PDVWHU
GRZQVWDLUV QLFH GHFN IHQFHG
EDFN \DUG FDU DWWDFKHG JDUDJH
PRUH
$QQLH¶V :D\
0/6
7XOODKRPD
± 1HZ 3ULFH
*RUJHRXV %5 )% +% KRPH
RQ DSSUR[
DFUHV IHDW +:
IORRULQJ IHQFHG \DUG JDWHG
HQWUDQFH ILUHSODFHV VFUHHQHG
SRUFK PRUH
LUXURY LISTING
AMAZING DETAIL
&XPEHUODQG 2DNV 'U
0/6
7XOODKRPD
± $OO EULFN %5 %$
KRPH Z ODUJH ERQXV URRP
TXDUW] FRXQWHUWRSV SDQWU\ FDU
JDUDJH QHXWUDO SDLQW WKURXJKRXW
QHZ FDUSHW JDV ORJ )3 +:
IORRUV PRUH
MOVE-IN READY
DON'T MISS OUT
LAKEFRONT HOME
TAKE A LOOK
:RPEOH 5G
0/6
6KHOE\YLOOH
±$PD]LQJ
%5 %$ KRPH Z DSSUR[
DFUHV IRUPDO OLYLQJ GLQLQJ
URRP )3 PDVWHU VXLWH Z DFFHVV
WR SRUFKHV VSDUDWH RIILFH ODUJH
NLWFKHQ PRUH
TAKE A LOOK
%XVK 5G
0/6
0DQFKHVWHU
%5 %$ KRPH
ZLWK D EHDXWLIXO VHWWLQJ IHDW WZR
SRQGV D QLFH EDUQ +9$& QHZ
ODPLQDWH ZRRG IORRUV PRUH RQ
DSSUR[ DFUHV RI IDUP ODQG
TAKE A LOOK
2OG 6KHOE\YLOOH 5G
0/6
7XOODKRPD
±1LFH %5 %$
KRPH RQ DSSUR[ DFUHV IHDW
GHWDFKHG JDUDJH OLYLQJ URRP
GLQLQJ URRP FRPER NLWFKHQ
XWLOLW\ URRP ERQXV URRP
PRUH
CHECK IT OUT
NEW PRICE
6DIOH\ &W
0/6
7XOODKRPD
±9HU\ QLFH %5 %$
KRPH ZLWK D GRZQVWDLUV PDVWHU
EHGURRP FDU JDUDJHV DWWDFKHG
JDUDJH IHQFHG EDFN \DUG
FRQFUHWH GULYH KRW WXE PRUH
INVITING NEIGHBORHOOD
DON'T MISS OUT
W
inter is synonymous
with many things,
but few people would rank
home res atop their list of
things that remind them of
winter. However, accord-
ing to the United States Fire
Administration, more than
$2 billion in property loss
occurs in winter home res
each year, and more than
900 people per year lose
their lives to winter home
res.
Perhaps the most trou-
bling thing about those sta-
tistics is that winter home
res are entirely prevent-
able. By taking certain pre-
cautions, men, women and
children can greatly reduce
the risk of home res.
ú Have the furnace in-
spected. Ideally, furnaces
should be inspected and
any problems addressed
before the arrival of win-
ter. But many homeowners
forget this routine mainte-
nance until that rst cold
day when it's time to turn
the heat back on. If you
have not yet had your fur-
nace inspected, schedule
an inspection with a local
HVAC professional, who
can make sure all controls
and emergency shutoffs
are fully functioning. If
you discover an issue dur-
ing a self-inspection, call
a professional to make the
repairs. Unless you have
experience in HVAC repair,
it's best to let the pros han-
dle any repairs because the
stakes are so high. Home
res often result from faulty
equipment, so only trained
professionals should be in-
specting and repairing your
home furnace.
ú Be especially careful
when using portable heat-
ers. Portable heaters can
warm up those areas of the
house that always seem to
be too cold in winter, and
such devices also provide a
backup plan in case of a bro-
ken heating system. But the
USFA notes that, in 2011,
heating equipment was in-
volved in more than 53,000
home structure res in the
United States, accounting
for 14 percent of all report-
ed home res. When using
portable heating equip-
ment, such as space heat-
ers, radiators and portable
replaces, do not place such
devices anywhere close to
items that can burn. Uphol-
stered furniture, bedding,
mattresses and clothing can
ignite in seconds, so keep
portable heating devices
away from such items. And
always turn portable heat-
ing devices off when leaving
the room where they are in
operation.
ú Address frozen pipes
correctly. Water pipes in a
home can freeze depend-
ing on how cold the home
gets. It might be tempting
to thaw such pipes with an
open ame, but such an ap-
proach is highly dangerous,
as the pipe may begin to
conduct the heat and ignite
the wall structure inside
the space. When address-
ing pipes you suspect are
frozen, thaw them with hot
water or even a laboratory-
tested handheld dryer rath-
er than an open ame.
ú Treat your replace
with kid gloves. Fireplaces
make great gathering spots
for families in the winter,
but only when they are op-
erated safely. Before light-
ing the rst re of the sea-
son, have the replace and
chimney inspected and
cleaned to reduce the risk
of re. Once the time comes
to spark your rst re, do
not use ammable liquids
to start or accelerate the re
and make sure you have in-
stalled a screen in front of
the replace to prevent em-
bers or sparks from jump-
ing out of the re and pos-
sibly igniting any nearby
items or materials.
ú Inspect smoke alarms.
Properly functioning smoke
alarms can save both your
home and your life. When
functioning
properly,
smoke alarms can alert you
to a re early on, giving you
time to extinguish a small
re before it spreads or to
escape a larger re before it
threatens your life. Inspect
your smoke alarms peri-
odically regardless of the
season and make sure you
have at least one function-
ing alarm on each level of
your home.
Prevent fires at home this winter
O
wning a home is a dream
for many people. But even
the most affordable homes
can be a considerable expense,
which is why many homeown-
ers are on constant lookout for
ways to cut the costs of home
ownership.
Men andwomenwho have
owned their homes for years
may already know of various
ways they can savemoney each
month. But rst-time home-
owners may not be so savvy,
which can leave them scram-
bling for ways to save each
month. Fortunately, home-
owners can reduce the cost of
owning their homes in a vari-
ety of ways.
ú Renance your mort-
gage. The average homeowner
would point to his or her mort-
gage payment as his or her big-
gest monthly expense. First-
timehomeownersmay assume
they have no leeway with re-
gard to lowering that payment,
but that's not necessarily true.
Interest rates uctuate every
day, and homeowners might
be able to take advantage of
that uctuation by renanc-
ing their mortgages to earn
lower interest rates. Depend-
ing on the amount of the loan,
a homeowner might be able to
save hundreds of dollars per
month and tens of thousands
of dollars over the life of the
loanafter renancinghis orher
mortgage. Research current in-
terest rates to determine if re-
nancing is in your best interest.
ú Reexamine your insur-
ance policy. When borrowing
money to buy a home, borrow-
ers need to have homeowner's
insurance. It's easy to forget
these policies and simply pay
the premium each month.
But homeowners looking to
save money should periodi-
cally reexamine their policies
and compare these existing
policies to those they might
be able to get from other pro-
viders. Comparison shopping
can save homeowners sub-
stantial amounts of money.
Homeowners willing to pur-
chase their homeowners and
auto insurance policies from
the same provider also can
save a considerable amount of
money, sometimes as much as
15 percent depending on the
provider.
ú Make safety upgrades.
Another way to cut the cost of
home ownership is to upgrade
your home's safety features.
Many insurance companies
offer discounts to homeown-
ers who install alarm systems,
sprinklers or storm shutters in
their homes. But homeowners
should conrm their eligibility
for such discounts before mak-
ing any upgrades, as policies
may differ depending on the
provider.
ú Purchase eco-friendly
appliances for your home. The
appliances in your home at the
time of purchase will inevita-
bly wear down, and replacing
such items can be expensive.
But replacing older appliances
with more eco-friendly alter-
natives can save you money
on your monthly utility bills, as
more and more appliances are
nowmade with energy savings
in mind. Cutting your energy
consumption leads to lower
utility bills, and you may even
be eligible for government re-
bates when buying products
that meet certain energy-sav-
ing standards.
The cost of home owner-
ship is on the rise, but home-
owners can take several steps
to alleviate those costs.
Cutting the costs of home ownership