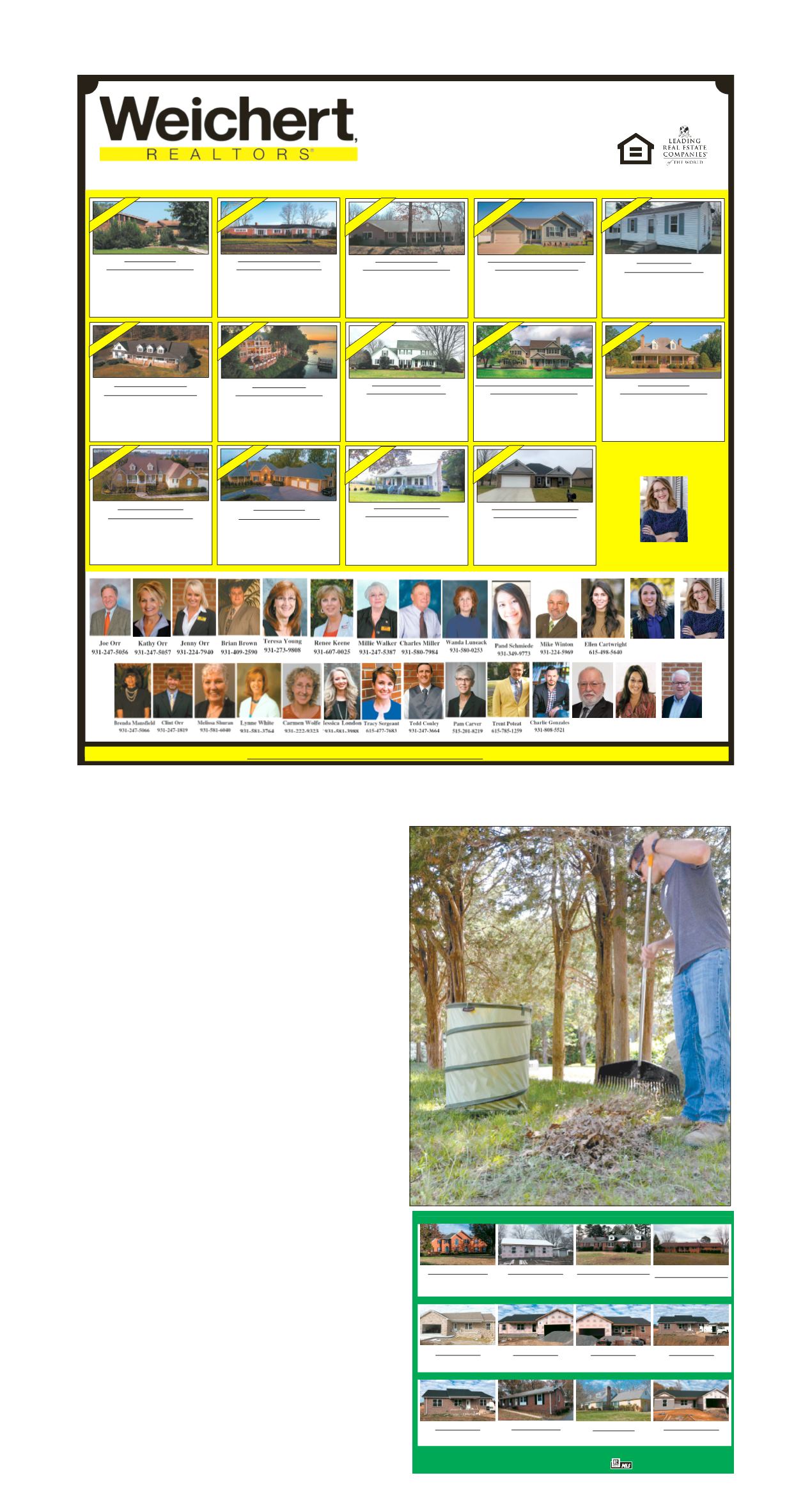 2A
—
Mid-Tenn Homes
--May 23, 2018 - June 12, 2018
LAND & LOTS & COMMERCIAL PROPERTIES FOR LEASE OR SALE
108 EWarren
-I
ncome producing-Great office space for smaller businesses. paved parking.
Call office for details.-
$199,900
108 E Warren St
-2000sf office space-$1100/month
0 Short Springs Rd :
11.93 acres in RE Lee school
district.Development opportunity.$300's.
Lots 1-5 - OldTullahoma-Shelbyville Rd:
5 residential tracts ranging in size from 5
acres-6.2 acres in Moore County.$45,000-$56,000.Perked with some restrictions.
107 Ledford Mill Rd.
- Office Building - $400's
sf. - semi furnished-$400's or $3000/mo.
100 Hoover Lane:
8000 sf.warehouse in prime location with loading dock on 2+ acre lot.$400's.
All Creekstone lots priced at $25,000
315 NW Atlantic St:
6000 sfavailable for Lease/$4660/month - could subdivide
603 NW Atlantic St
-Brickbuilding -2350 sf-Former dentaloffice - $150's
2284 N Jackson St:
Vacant land --1.87acres-citywater/sewer available-candivide-$170's
2288 N Jackson St:
2.52acresof undeveloped land on
N JacksonSt.City
water/seweravailable.$250's
1350CedarLane:
Approx 4600 sq ftoffice/warehouse space for lease.$1750/mo
27OldMulberryHwyNE,Mulberry,TN
CurrentPostoffice inMulberry,Tennessee $150,000
NEW CONSTRUCTION-ESTILL SPRINGS
49 Rebecca Lane
New Construction! 3BR/2BA + Bonus
Room, hardwood flooring, custom
cabinets, tile, stainless appliances, patio,
convenient to Elementary School, and
much more! $180's.
4BR/3.5BA+5.01+/-ACRES
1201 Old Shelbyville Hwy
with hardwood, crown molding, trey ceilings,
kitchen w/custom cabinets, island, SS
appliances, formal DR, LR, den w/fireplace,
office w/french doors, large master suite, large
rooms throughout, 2 car garage, detached
garage 36x40. $520's.
257 Williamsburg Circle
3BR/2BA, tile in bathrooms and utility
room, custom cabinets, hardwood flooring,
Stainless appliances, 2 car garage, STILL
TIME TO MAKE COLOR SELECTIONS!!
$140's.
6RXWK -DFNVRQ 6W 7XOODKRPD 71
Harton Realty Company
www.hartonrealty.com
± ±
NEW CONSTRUCTION
505 Hood Drive 4BR/3BA
Great location with hardwood floors, formal
dining room, eat-in kitchen, built-ins, den w/
gas log FP, office, large rooms, lots of natural
light, extra closets and IN-LAW QUARTERS with
separate entrance, kitchen, LR/DR (1BR/1BA in
quarters). 1.2 acre corner lot. $220's
622 Davis Springs Rd
Beautiful 5 acre country setting & newly
remodeled contemporary home located
close to town, minutes from Turkey Creek
Boat Dock & Holiday Landing Marina. Many
updates including new kitchen, updated
baths, wood & tile floors, 2-patios, 2 decks,
full basement partially finished w/HVAC and
bath. 3BR/2.5BA $240's.
COMMERCIAL
603 NW Atlantic St
PRICED TO SELL! Former dental office ready
for quick sale! Many uses possible! Approx
2350 sq ft, Waiting room, reception area, exam
rooms, offices, ingress/egress in front and
back of building on a 200 x 85 lot. $140's.May
consider a lease.
NEW PRICE W/IN LAW SUITE
NEW LISTING
267 Holiday Camp Dr
2BR/1BA log home in Holiday Hills with a lot of
country charm WITHIN WALKING DISTANCE
TO HOLIDAY MARINA, Boat launch, Blue Gill
Restaurant and fishing near your front door!
Property has a 12x12 screened-in porch, and
16x24 outbuilding. $90's
WALKING DISTANCE TO TIMS FORD LAKE!
400 Normandy Road
Soaring ceilings, hardwood, granite, many
architectural details, outside kitchen, 3
fireplaces, natural creek, workshop, pond with
terrace, dozier house, open barn, hay barn. Way
too many amenities to list here! $2,495,000.
Qualified Buyers only!
EXQUISITE ESTATE~107 ACRES
915 Normandy Road
4BR/2.5BA on 3.85 acres with spectacular
views! Updates include fresh paint, new
hardwood, new kitchen appliances and
custom cabinets, lighting and new tile.
Basement is partially finished and could easily
add more living space. $380's
4BR/2.5BA ON 3.85 ACRES
PLEASE VISIT US AT
WWW.WEICHERTJOEORR.COM
TO VIEW ALL OF OUR LISTINGS
COMMERCIAL & LAND/LOTS
/DNH +LOO 5G 0/6
0DQFKHVWHU ± 5HVLGHQWLDO ODNH ORW RQ 1RUPDQG\ /DNH &RPH EXLOG \RXU GUHDP KRPH ± FXUUHQWO\ SHUPLWWHG IRU %5 KRPH
OPEN HOUSE
'ULSSLQJ 6SULQJV 5G
0/6
:LQFKHVWHU ± ,QFUHGLEOH 7LPV )RUG
/DNH ELHZV Z WKLV %5 %$ UHQRYDWHG
KRPH IHDW QHZ ZLQGRZV QHZ FHLOLQJV
QHZ GHFN IUHQFK GRRUV QHZ URRI
IHQFHG EDFN\DUG QHZ IORRULQJ PRUH
6XQGD\ 0D\ WK IURP 30
OPEN HOUSE
NEWLY UPDATED
-HQQLQJV &LUFOH
0/6
7XOODKRPD ± :RQGHUIXO %5 %$ KRPH
LQ -HQQLQJV SRLQW Z ILUHSODFH GLQLQJ
URRP ERQXV URRP WK EHGURRP QHZ
ZLQGRZV \U ROG URRI
+9$& FDU
JDUDJH PRUH
TAKE A LOOK
6 3RON 6W
(OP $O\
0/6
7XOODKRPD ± &KDUPLQJ %5 %$ KRPH
Z GHWDFKHG VWRUDJH EOGJ FRYHUHG IURQW
SRUFK IHQFHG \DUG PRUH $OVR LQFOXGHV
FRPPHUFLDO EXLOGLQJ
.LQJVULGJH %OYG
0/6
7XOODKRPD ± *RUJHRXV %5 %$
KRPH Z GRZQVWDLUV PDVWHU VXLWH SRRO
IHQFHG EDFN\DUG
FDU JDUDJH QHZO\
UHPRGHOHG PDVWHU VXLWH PRUH RQ WKH
WK KROH RI /*&&*&
.LQJVULGJH %OYG
0/6
7XOODKRPD ± $OO EULFN %5 %$
KRPH Z UHPRGHOHG NLWFKHQ PDVWHU
VXLWH +: IORRUV )3 ZDON LQ FORVHW LQ
PDVWHU PRUH
IMMACULATE CONDITION
6WDWLRQ &LUFOH
0/6
7XOODKRPD ± %5 %$ KRPH Z FDU
JDUDJH FURZQ PROGLQJ )3 JUDQLWH
FRXQWHUWRSV +: ERQXV URRP Z IXOO EDWK
EDFN SRUFK Z SDWLR PRUH
'DEEV 5G
0/6
'HFKHUG ± &XVWRP EXLOW EULFN %5 EDWK
KRPH Z ERQXV URRP QHVWOHG RQ DSSUR[
DFUHV Z FRYHUHG IURQW
EDFN SRUFKHV VWDOO
EDUQ ORWV RI +: IORRULQJ JDV ORJ )3 66
DSSOLDQFHV PRUH
MOUNTAIN VIEWS
2YRFD 5G
0/6
7XOODKRPD ± 8QLTXH %5 )% +%
SURSHUW\ Z DSSUR[
DFUHV PDQ\
XSGDWHV LQFOXGLQJ NLWFKHQ EDWKV
LQ ODZ TXDUWHUV VDOW ZDWHU SRRO
FDU
JDUDJH )3 JUDQLWH PRUH
FEATURED LISTING
&DUWHU %ODNH 5G
0/6
7XOODKRPD ± 1LFH FRORQLDO %5 %$
KRPH RIIHUV IRUPDO OLYLQJ GLQLQJ
URRPV NLWFKHQ Z JUDQLWH FRXQWHU WRSV )3
LQ GHQ VWRUDJH EOGJ QHZHU URRI PRUH
6XQGD\ -XQH UG IURP 30
OPEN HOUSE
6XQGD\ -XQH UG IURP 30
OPEN HOUSE
+RSH &LUFOH
0/6
(VWLOO 6SULQJV ± %HDXWLIXO %5 )% +%
KRPH RQ DSSUR[
DFUHV RYHUORRNLQJ
7LPV )RUG /DNH Z GRFN SHUPLW JRXUPHW
NLWFKHQ +: WLOH ZDONLQJ SDWK WR SLHU
ILQLVKHG EDVHPHQW
PRUH
6XQGD\ -XQH UG IURP 30 6XQGD\ -XQH UG IURP 30
6XQGD\ -XQH WK IURP 30
6XQGD\ -XQH WK IURP 30
OPEN HOUSE
OPEN HOUSE
OPEN HOUSE
OPEN HOUSE
2YRFD 5G
0/6
7XOODKRPD ± $OO EULFN %5 %$ KRPH
Z FDU JDUDJH ERQXV URRP RSHQ IORRU
SODQ RIILFH +: IORRU )3 FRYHUHG SDFN
SRUFK PRUH RQ DSSUR[ DFUHV
/DQFDVWHU &W
0/6
7XOODKRPD ± 0RYH LQ 5HDG\ %5 %$
KRPH Z ERQXV URRP LUULJDWLRQ V\VWHP
+: JUDQLWH FRYHUHG EDFN SRUFK RSHQ
IORRU SODQ PRUH
How to transform
a fixer-upper
T
he real estate market will always
have its ups and downs, but real
estate is an oft-protable invest-
ment. Real estate investors do their in-
vesting for various reasons. Some see
a house as a place to hang their hats for
years and years, while others look at
properties as nothing more than invest-
ments.
Buying a home with the intent to x
it up and resell it is called a "x and ip."
In such situations, investors buy homes
at below-market prices before refurbish-
ing the homes with the goal of recouping
their initial investment and then some
when the homes are ultimately put back
on the market. Flipping has become
popular for both expert remodelers and
novice investors. RealtyTrac?, the na-
tion's leading source for comprehensive
housing data, noted in its "Year-End and
Q4 2015 U.S. Home Flipping" report that
5.5 percent of all single family home and
condo sales during the year were ipped
properties. This marked an increase from
the same time the previous year.
Investing in a xer-upper requires
a leap of faith and a vision of what the
home can look like in the future. Turn-
ing a real estate lemon into lemonade
requires certain skills and a good mea-
sure of patience. The following are some
guidelines to get anyone started.
•Don't bite off more than you can
chew. Make an honest assessment of
your abilities and which renovations,
if any, you can handle. If you are un-
skilled or inexperienced working with
your hands, then it can be easy for an
investment property to quickly become a
money pit. Before purchasing a property,
hire a trained home inspector to tour the
home with you and point out all of the
areas that will need renovation. With this
list, begin getting estimates on howmuch
money the work will entail. Determine if
this ts with your budget or not. You do
not want to invest somuch that it exceeds
what you could feasibly recoup when it
comes time to sell.
•Overlook cosmetic things when vis-
iting properties. Cosmetic issues include
all of the easily replaceable items in a
home, such as carpeting, appliances, in-
terior paint colors and cabinetry. Focus
on the bones of the house - the architec-
tural integrity and those little touches
that you envision having a "wow" factor.
•Seek the help of experts. Some ip-
pers think they'll save the most money
by doing all of the work themselves. This
isn't always the case. Professional ar-
chitects, designers and contractors may
help you save money. Contractors have
an intimate knowledge of where to buy
materials and may be able to negotiate
prices based on wholesale or trade costs.
In addition, experts can help you avoid
common pitfalls because they've already
done this type of work time and again. It's
smart to rely on expert advice, even if it
means investing a little bit more.
•Save money by doing some work
yourself. While the pros may tackle the
more complex parts of a given project,
such as rewiring electricity or changing
the footprint of a home, you can still be
involved. Ask to participate in demoli-
tion, such as taking down walls or remov-
ing old materials from the home. Such
participation may be fun, and it can save
you substantial amounts of money on la-
bor.
• Recognize that not everything must
be completely redone. Realize that, in
some instances, a coat of paint and some
new accents may be all you need to trans-
forma space. For example, if kitchen cab-
inets are in good condition, see if they can
be refaced or painted instead of replaced
entirely. Install new door pulls/handles
to add visual interest. Look for some
ready-made items, such as bookshelves,
instead of installing custom carpentry.
• Think about what the buyer wants
and not what you want. Renovate with
an eye toward prospective buyers' needs.
Keep things neutral and accommodating.
Research the latest trends to understand
what buyers might be seeking in a home.
You want potential buyers to envision
themselves moving right in.
Renovating a xer-upper takes time,
but it can be a worthwhile project, and
one that can help anyone turn a prot in
a booming real estate market.