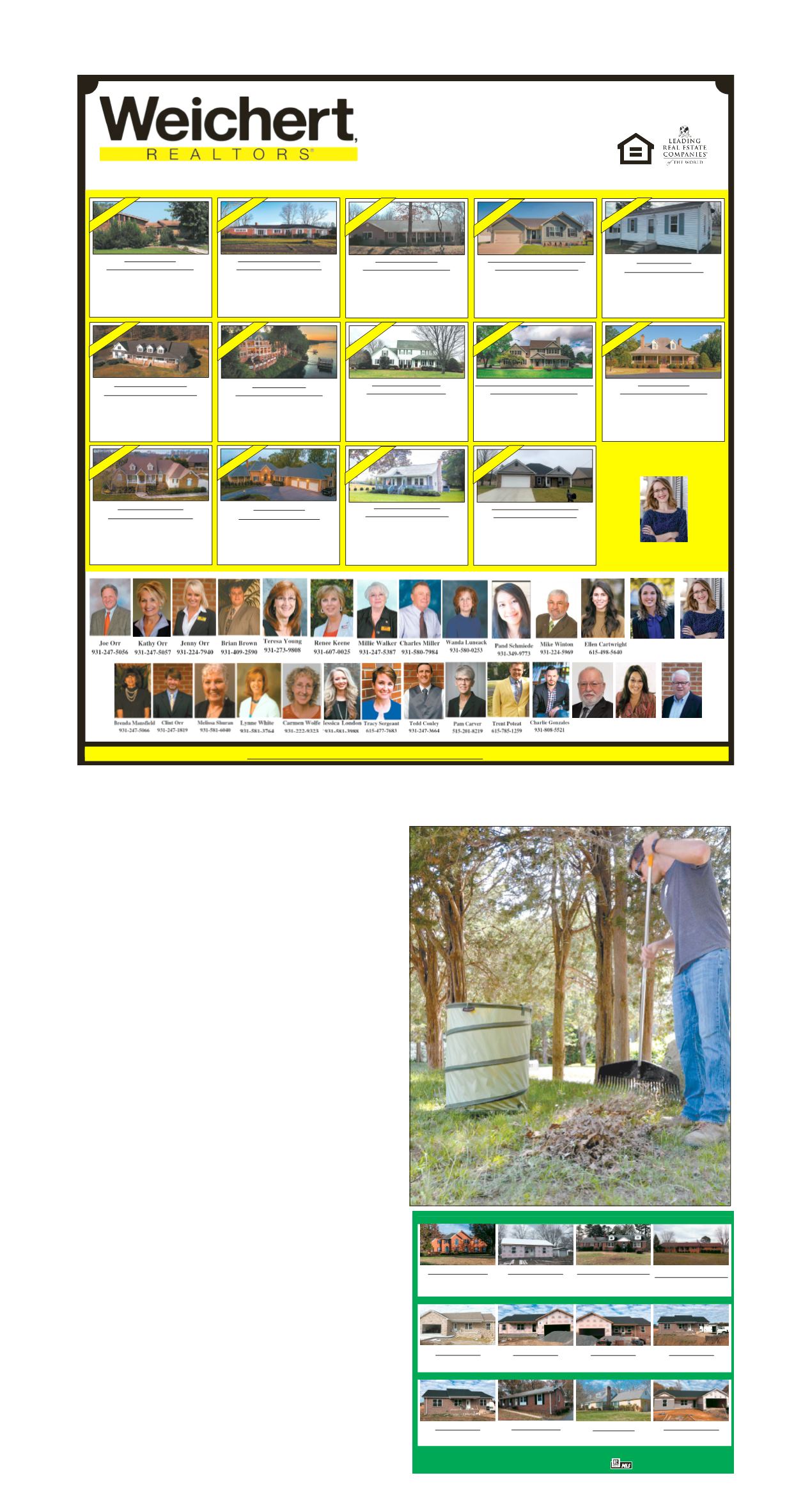 2A
—
Mid-Tenn Homes
-- January 10 - January 23, 2018
Weichert,
Realtors
®
Joe Orr & Associates
Independently Owned & Operated
931-455-0555
1-800-489-0555
309 S. Jackson St.
Tullahoma, TN 37388
www.weichertjoeorr.com
PLEASE VISIT US AT
WWW.WEICHERTJOEORR.COM
TO VIEW ALL OF OUR LISTINGS
0 Chase Bend Rd MLS#1888440 $55,000
Estill Springs - Great land to build your dream home! Located
just minutes from Winchester or Tullahoma feat. 6.76 acres and
has water and electricity available!
LAND/LOTS
OPEN HOUSE
FEATURED LISTING
CHECK IT OUT
CRAFTSMAN STYLE
CHECK IT OUT
1 OWNER HOME
TAKE A LOOK
TAKE A LOOK
QUIET NEIGHBORHOOD
309 Settlers Trace
MLS#1884493 $409,900
Tullahoma – Gorgeous custom built 4 BR/4BA home w/
lots of attention to detail built ins, crown molding, HW
floors, covered front & back porches, fenced backyard,
in-ground salt water pool, detached two-car garage,
granite countertops & more! Location: From Tullahoma
on N. Jackson, take N Washington, left onto Kings
Lane, left onto Ovoca Road, stay left at the split onto
Riley Creek Road and then turn right into Settlers Trace
Subdivision, property will be on the right with signage.
104 Lancaster Ct
MLS#1886392 $359,900
Tullahoma – Move In Ready 4BR/4BA all brick home
w/bonus room, hardwood flooring, gas log FP, granite
countertops, open floor plan, built ins, crown molding,
plantation shutters, irrigation system, covered back
porch, 2 car garage & more! Location: From Kings
Lane, take a left onto Coutnry Club, turn right into
Macon Manor Subdivision across from Lakewood
Golf & Country Club golf course, follow Albemarle
until you see the cul de sac Lancaster Court on the
left, house will be on the right w/signage.
7871 Lynchburg Hwy
MLS#1887288 $750,000
Tullahoma
–
Beautifully
renovated
5BR/3FB/2HB historic home built by Conner
Motlow, heir of the Jack Daniels Distillery!
Home feat. 10,000 sq. ft under one roof, a
6.5 acre estate, gourmet kitchen with granite
counter tops, geothermal H/C, HW, tile &
marble floors & more!
109 E Moore St
MLS#1890184 $104,900
Tullahoma – Charming 3BR/2BA
home feat. eat-in kitchen, living
room, HVAC, covered porch,
carport, storage bldg, ample closet
space & more!
409 Garden St
MLS#1889400 $124,900
Estill Springs - Beautiful brick 3
BR/2BA home feat. a spacious
kitchen, storage building, covered
patio, fenced back yard, pool,
garage & more!
114 Parkway Place
MLS#1887715 $289,900
Tullahoma – Beautiful brick 4BR/3BA home on
cul-de-sac lot w/professional landscaping,
oversized concrete drive, split BR floor plan,
vaulted, barrel & soaring ceilings w/custom
millwork, hand-scraped HW flooring & more!
105 Shady Acres Ln
MLS#1890879 $189,900
Tullahoma – Beautiful 3BR/2BA home
feat. deck, HVAC, bonus room upstairs
that can be used as an office, an eat-in
kitchen & more on a beautiful lot!
707 Flower Lane Dr
MLS#1888437 $149,900
Estill Springs - Nice 3BR/1.5BA brick home
close to Tims Ford Lake on almost 1 acre!
Home feat. a living room, den w/FP, kitchen
w/custom oak cabinets, 1 car heated
garage that is used as a rec room/utility
room & more!
5040 Old Manchester Highway
MLS#1889383 $144,900
Tullahoma – Nice 3BR/2BA brick home in
beautiful subdivision! Home feat. deck,
storage building, HVAC, garage, large
private yard & more in a convenient location
close to shopping in Manchester and
Tullahoma!
37 Spring Breeze Dr
MLS#1890158 $179,900
Tullahoma - Gorgeous 3BR/2BA home
feat. HW floors, beautiful millwork, granite
countertops, SS appliances, fenced
backyard, tile backsplash, coffered celing
in living room & more!
203 Setters Ln E
MLS#1852284 $799,900
Tullahoma - Lake Tullahoma Living! Incredible
2-story home in exclusive Setters Point. This
home has been meticulously maintained and has
breathtaking views. This home offers a first-floor
large master suite & 3 guests bedrooms with private
baths, a formal dining room, huge recreation room,
office, a second kitchen in the finished basement
& more!
SUNDAY, JANUARY 14TH FROM 1-3PM
SUNDAY, JANUARY 21ST FROM 1-3PM
OPEN HOUSE
OPEN HOUSE
SUNDAY, JANUARY 14TH FROM 1-3PM
1400 Wilson Ave
MLS#1882431 $219,900
Tullahoma – Spacious custom built 5BR/3.5BA home on
beautiful approx. 3.4 acres feat. HW floors, 3 FP's, HW
walls with built in, DP windows, garage with BA/work
space/storage, BR's closets have built in shoe racks, all
the privacy you could ever need & more! Location: From
North Jackson St. turn onto Wilson Ave. home will be
approximately 2 miles on the right with sign.
Real estate agents
can help save buyers
and sellers money
R
ecord-low interest rates and
record-low housing prices are
renewing interest in the oundering
housing market for many people.
Now could be the time to sell and buy
a new home and earn an even bigger
slice of the real estate pie. Whether
an individual is a buyer or a seller, or
doing both, his or her goal is to get the
best nancial deal on the home and
often that means having a qualied
real estate agent working in his or her
corner.
Those entering the real estate realm
may have misconceptions about what's
involved. Oftentimes, individuals think
they can go it alone and save money on
real estate commissions in the process.
However, not having a knowledgeable
agent to navigate the process can end
up costing more money in the long run.
An agent is not there just to open up
houses for viewing or to simply put a
for-sale sign on the front lawn. Agents
guide the seller or buyer through a
complicated process of legalities and
emotional hurdles. The agent also
negotiates for the buyer and seller to
help them make important nancial
decisions.
When sellers are interviewing real
estate agents to market their homes,
their primary focus is usually on the
advertising that the agent will offer
them. Advertising is important, but,
once sellers have an offer, they need a
strong negotiator to help them get the
best price and terms. Buyers should
also look for agents who have strong
negotiating skills and neighborhood
knowledge which will help them make
the most of their purchasing power.
Individuals can expect a real estate
agent to help them navigate a process
that, to rst-time buyers or sellers, can
prove intimidating.
Buying A Home
1. Schedule a consultation to discuss
what features and amenities buyer is
looking for in a home.
2. The agent may suggest buyers
speak with a mortgage consultant
to gure out their buying power and
obtain a mortgage pre-approval letter.
3. The agent will then look up home
listings in a particular price range and
help the buyers to view the homes.
4. When buyers nd a home they
want to purchase, the real estate agent
will help them come up with a fair
market price and write up the contract
to present to the seller.
5. The agent will help the buyer
negotiate on the nal price with the
seller.
6. In some states, the agent will
accept a down payment to place in trust
or work with a real estate attorney on
behalf of the buyer.
7. The agent may be present
during a home inspection, which is
recommended.
8. The agent will then schedule the
home appraisal.
9. He or she will then conrm
the closing and be present at closing
with the buyer and the attorney, if
necessary.
Selling A Home
1. The real estate agent will meet
with the sellers and evaluate the home
and property.
2. He or she will do amarket analysis
to gure out the best price to list the
house based on the neighborhood and
comparable sales.
3. The agent may make suggestions
for repairs or improvements that can
help make the home more attractive to
buyers.
4. The real estate agent may present
a marketing plan that indicates where
the home will be advertised.
5. He or she will write up a listing
agreement and begin the process of
marketing the home.
6. An open house for real estate
brokers may be scheduled, also a
caravan of brokers from the agents
own real estate ofce and surrounding
afliates.
7. An open house for buyers will be
scheduled.
8. The agent will eld calls from
other agents and notify the seller when
a viewing request has been made.
9. Follow-up feedback can be
offered, whichmay include information
the agent receives by making calls to
people who viewed the home or by
tracking how many potential buyers
viewed the home listing.
10. When an offer comes in, the
agent will notify the sellers and advise
him or her of the
negotiation process.
11. The agent will be present during
the home inspection, if the buyer
requests one.
12. The agent will schedule with
the city or town to have a certicate of
occupancy inspection conducted.
13. The seller will be notied by the
agent when the buyer has obtained a
mortgage commitment and made good
faith deposits.
14. The agent will likely be present
at the home closing with the real estate
attorneys.
Individuals buying or selling a home
can certainly do it by themselves, but
real estate agents have the knowledge
and provide assistance through the
myriad steps of the process, helping
individuals to save time and money.
LAND & LOTS & COMMERCIAL PROPERTIES FOR LEASE OR SALE
108 E Warren
-I
ncome producing-Great office space for smaller
businesses. paved parking. Call office for details.
0 Short Springs Rd :
11.93 acres in RE Lee school
district. Development opportunity. $300's.
507 Cedar Ln
Former church building---church has fire
damage, abundant parking, mobile home that was an office is
included, over 150 ft of road frontage, 1.25 acres $125,000
200 Ledford Mill Rd
24000 sq ft metal building,
former skate center, over 75 parking spaces.Will
lease for $3800/month-owner/agent $850,000
1801 N Washington St
1.660 Acres, 4930sf medical office
building.Will lease, can divide in 2 units. $625,000
107 Ledford Mill Rd.
- Office Building - 3418
sf. - semi furnished-$420's or $3000/mo.
108 E Warren St
-2000sf office space-$1100/month
790 Kings Lane
- 1500 sf office space - $1100/mo. Owner/Agent
100 Hoover Lane:
8000 sf. warehouse in prime
location with loading dock on 2+ acre lot. $400's.
All Creekstone lots priced at $25,000
315 NW Atlantic St:
6000 sf available for
Lease/$4660/month - could subdivide
603 NW Atlantic St
-Brick building -2350 sf-Former dental office - $169,900
2284 N Jackson St:
Vacant land --1.87 acres-city
water/sewer available-can divide-$230's
2288 N Jackson St:
2.52 acres of undeveloped land on
N Jackson St. City water/sewer available. $270's
Will Hickerson Rd:
24.87 Acres. Some
restrictions. May subdivide. Owner/Agent
NEW PRICE
408 Oakwood Rd
Renovated 3BR/2BA with large rooms,
a stone wood burning fireplace, new
stainless appliances, covered back porch,
spacious yard, new hardwood flooring
and storage building. Over 1800sf. Priced
in the $120's
CUSTOM BUILT HOME
31 Rainbow Lane
New construction near Tims Ford Lake!
Great weekend home near Blue Gill Grill/
Holiday Marina. 3 BR/2BA with loft,
stainless appliances, hardwood, carpet,
tile, custom cabinets, loft could be 4th
bedroom. $130's
REMODELED ON 5.23 ACRES
908 Wilson Avenue
Beautiful 5.23 acre lot! Newly renovated kitchen w/
granite, double ovens, high ceilings, 2 fireplaces,
formal LR, DR, Den, Sun Room, Butlers Pantry,
office with built-ins. Master BR w/2 large cedar
lined closets, and much more! 3BR/2FB/2HB and
over 3300sf. $310's
915 Normandy Road
4BR/2.5BA on 3.85 acres with spectacular
views! Updates include fresh paint, new
hardwood, new kitchen appliances and
custom cabinets, lighting and new tile.
Basement is partially finished and could
easily add more living space. $380's
NEW CONSTRUCTION!
275 Williamsburg Estates
3BR/2BA with hardwood, tile and custom
cabinets. Approx. 1616sf. $140's. 2 car
garage, ceiling fans and stainless appliances
NEW CONSTRUCTION!
230 Wesley Street
3/4 BR brick home on large lot, refinished
hardwood floors, new carpet, sold with
refrigerator/washer/dryer/stove/dishwasher,
updated bathrooms, large Living room, 2 car
carport, storage building, paved drive, new hot
water heater, fresh paint and more. Low $130's.
NEW CONSTRUCTION!
727 Marbury Rd
3 BR/2BA with stainless appliances,
includes stove, dishwasher and microwave,
hardwood, carpet, tile, and more.Priced to
sell at $124,900. Motivated seller!
NEAR TIMS FORD LAKE - OVER 4800SF
9 Rainbow Lane
New construction minutes from Tims Ford
Lake! Great weekend home near Blue Gill Grill/
Holiday Marina. 3 BR/1BA with loft, stainless
appliances, hardwood, carpet, tile, custom
cabinets and more, Motivated seller! Priced to
sell at $106,900!
4BR/2.5BA ON 3.85 ACRES
EXTRA ACREAGE AVAILABLE!
381 Ledford Mill Rd
2BR/1.5BA on approx 1.9 +/- acres with
new oak kitchen cabinets, large family
room with fireplace and lots of hardwood.
Also includes a storm shelter, huge storage
building/barn and 2 carports with extra
acreage available. $135,000
Harton Realty Company
6RXWK -DFNVRQ 6W 7XOODKRPD 71
www.hartonrealty.com
± ±
802 Wilson Ave
Partially renovated 3BR/1 BA home, new
stainless appliances, new kitchen cabinets,
tile floors, refurbished hardwood, new
roof on garage, partially fenced yard, new
hot water heater, 1 car detached garage--
ready for quick sale! $101,900
417 Settlers Trace
Hardwood, tile, granite, family room with
cathedral ceiling, stone fireplace w/built
ins, beautiful kitchen cabinets w/raised
bar, gas stove, formal DR, Rec Rm, office,
lots of crown molding, wet bar, fenced
back yard, 22x22 det garage. 4BR/3.5BA-
This one has it all! $380's
113 Thomaswood Chase
One owner home offers 4/5BR, 2.5BA,
vaulted foyer, fireplace in LR, eat-in
kitchen w/ island & pantry, formal DR w/
trey ceiling, front office/sitting rm, master
suite w/ walk-in closet, built-ins, double
vanity, Bonus rm, tiered deck, storage
bldg! $230's