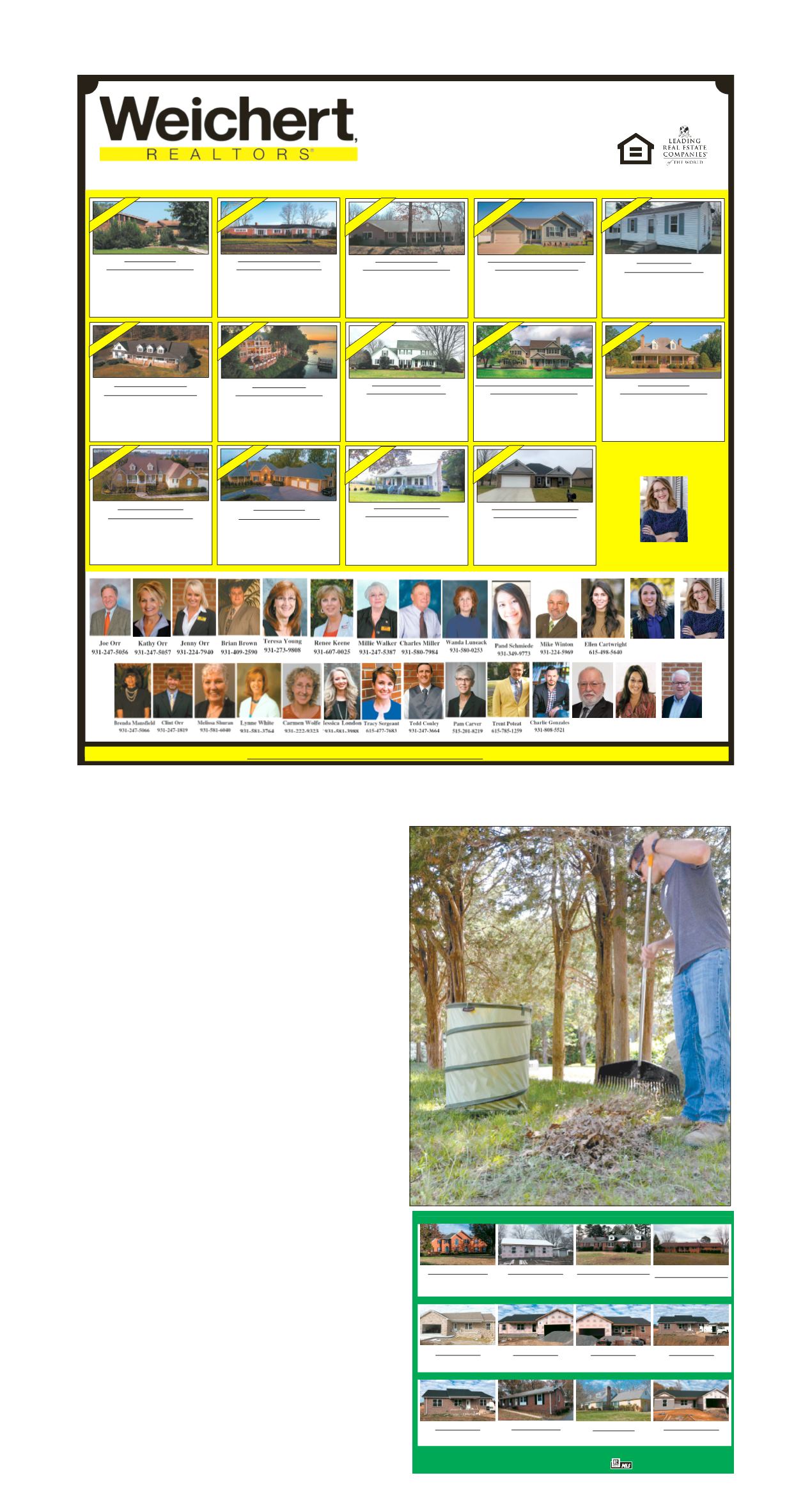 2A
—
Mid-Tenn Homes
--July 11-24, 2018
LAND & LOTS & COMMERCIAL PROPERTIES FOR LEASE OR SALE
108EWarren
-I
ncomeproducing-Great office space for smallerbusinesses. paved parking.Calloffice for details.-
$199,900
108 EWarrenSt
-2000sfoffice space-$1100/month
0ShortSpringsRd :
11.93 acres inRE Lee school district.Development opportunity.$300's.
Lots 1-5 -OldTullahoma-ShelbyvilleRd:
5 residential tracts ranging in size from5 acres-6.2
acres inMooreCounty.$45,000-$56,000.Perkedwith some restrictions.
107 LedfordMillRd.
-Office Building - $400's sf. - semi furnished-$400'sor$3000/mo.
100Hoover Lane:
8000 sf.warehouse inprime locationwith loading dockon2+ acre lot.$400's.
AllCreekstone lotspriced at $25,000
315NWAtlanticSt:
6000 sf available for Lease/$4660/month - could subdivide
2284N JacksonSt:
Vacant land --1.87 acres-citywater/sewer available-can divide-$170's
2288N JacksonSt:
2.52 acresof undeveloped landon
N JacksonSt.City
water/seweravailable.$250's
27OldMulberryHwyNE,Mulberry,TN
CurrentPostoffice inMulberry,Tennessee$150,000
400N JacksonSt :
0.380acres,5000SqFt.FormerlyTullahomaTireandBrake,TirePro.$295,000
0SettlersLnW:
0.830acres.Beautifulwooded lakefront loton LakeTullahoma.$99,900
108PrincetonLn Lot 5:
0.570acres.Beautifulbuilding lot in great subdivision located close to town.$24,500
468 JdNeilRd Lot 0.25:
Beautifulbuilding lot located close toRutledgeFallsRd andnot far from town.$15,000
0WardsChapelRd:
3.980acres.Beautiful secluded land located in theNormandyLakearea.$39,500
1OldSeminaryRd:
25.220acres.CoffeeCounty nearManchester, currently crop farmed.$138,500
1ShortSpringsRd:
50.000acres.ACREAGE! InTullahoma city limits inRobertELeeSchoolDistrict.$935,000
41ThreeForksBridgeRd:
41acres.Beautiful farm, restricted,15min toTullahomaorShelbyville, nearNormandyLake.$339,700
NEW CONSTRUCTION-ESTILL SPRINGS
49 Rebecca Lane
New Construction! 3BR/2BA + Bonus
Room, hardwood flooring, custom
cabinets, tile, stainless appliances, patio,
convenient to Elementary School, and
much more! $180's.
PENDING
211 Johnson Ln - Tullahoma
Amazing 3 BR house with large private fenced
back yard, covered carport and covered back
patio, one car garage also, custom cabinets,
stainless appliances, hardwood and tile
throughout, Living room and large kitchen,
split bedroom concept, close to recreation park,
measurements approx-measure if important.
$149,900
257 Williamsburg Circle
3BR/2BA, tile in bathrooms and utility
room, custom cabinets, hardwood flooring,
Stainless appliances, 2 car garage, STILL
TIME TO MAKE COLOR SELECTIONS!!
$140's.
6RXWK -DFNVRQ 6W 7XOODKRPD 71
Harton Realty Company
www.hartonrealty.com
± ±
PENDING
505 Hood Drive 4BR/3BA
Great location with hardwood floors, formal
dining room, eat-in kitchen, built-ins, den w/
gas log FP, office, large rooms, lots of natural
light, extra closets and IN-LAW QUARTERS with
separate entrance, kitchen, LR/DR (1BR/1BA in
quarters). 1.2 acre corner lot. $220's
234 Reeves St - Tullahoma
Partially renovated 3 BR home in RE Lee
school district, new plumbing, new custom
cabinets, large LR/Kitchen, stainless
appliances, covered back porch, storage
closet, 1 car carport--measurements
approximate measure if important. $104,900
COUNTRY LIVING
591 Cook Rd - Tullahoma
Country living near the city limits, Beautiful
5 ACRE fenced horse farm, 4 bedrooms 3.5
baths, 2 balconies overlooking back pasture,
lots of storage including basement, city water,
NO CITY TAXES, wood burning fireplace,
basement, pump house, 2 stalls/tack room, and
much more! $325,000
NEW PRICE W/IN LAW SUITE
IN RE LEE SCHOOL DISTRICT
908 Wilson Ave - Tullahoma
This stately 3 BR/2 full BA/2 half BA home on
approx. 5.23 acres in great location features a
renovated kitchen with granite counters, stone
back splash, double ovens, tall ceilings, 2 gas
log fireplaces, butlers pantry, master bedroom w/
cedar lined closets, remodeled master bath, study
with built-ins, sun room, over-sized rooms, and
much more! $309,900
APPROXIMATELY 5.23 ACRES
400 Normandy Road
Soaring ceilings, hardwood, granite, many
architectural details, outside kitchen, 3
fireplaces, natural creek, workshop, pond with
terrace, dozier house, open barn, hay barn. Way
too many amenities to list here! $2,495,000.
Qualified Buyers only!
EXQUISITE ESTATE~107 ACRES
105 Gaul St - Estill Springs
Wonderful home near Tims Ford Lake,
convenient location, two master suites, full
basement with two BR's, possible inlaw suite
downstairs, 2 kitchens, 2 large LR's, 4 car
garage, private patio and deck, 2.5 acres, lots
of square footage, built in cabinets, gas logs,
some Bamboo flooring, and more! $345,000
NEAR TIMS FORD LAKE
PENDING
PENDING
PLEASE VISIT US AT
WWW.WEICHERTJOEORR.COM
TO VIEW ALL OF OUR LISTINGS
$PKHUVW 'U
0/6
7XOODKRPD
%5 %$
KRPH Z ERQXV URRP FXVWRP
FDELQHWU\ JUDQLWH FRXQWHUWRSV
66 DSSOLDQFHV +: IORRUV FDU
JDUDJH PRUH
%HO $LUH 'U
0/6
:LQFKHVWHU
$OO EULFN %5 %$
KRPH Z FDU JDUDJH IHQFHG EDFN
\DUG EDFN GHFN VXQURRP ODUJH
\DUG WKDW EDFNV XS WR ZRRGV
PRUH
%RQQHU :D\
0/6
(VWLOO 6SULQJV
± ,PPDFXODWH DOO
EULFN RQH OHYHO %5 %$ KRPH
RQ DSSUR[
ZRRGHG DFUHV
+: IORRUV JUDQLWH VXQ URRP
FDU JDUDJH PRUH
.LQJVULGJH %OYG
0/6
7XOODKRPD
%5 %$ KRPH
RQ WKH WK IDLUZD\ RI /*&&*&
IHDW +: IORRUV KRW WXE LQ
JURXQG SRRO IHQFHG EDFN \DUG
FDU JDUDJH PRUH
6HWWOHUV /Q
0/6
7XOODKRPD
± ,PPDFXODWH
%5 %$ KRPH RQ /DNH
7XOODKRPD :DON ULJKW RXW
WR WKH ZDWHU RU HQR\ WKH ODNH
EUHH]H IURP WKH PDLQ IORRU
EDOFRQ\
6PLWK &KDSHO 5G
6HWWOHUV 7UDFH
/\QFKEXUJ +Z\
6WDWLRQ &LUFOH
:RRGPRQW 'U
)DLUZD\V %OYG
6RPHUVHW /Q
2YRFD 5G
0/6
7XOODKRPD
± )UHQFK FRXQWU\
VW\OH KRPH Z DSSUR[ DFUHV
VDOW ZDWHU SRRO LQ ODZ TXDUWHUV
FDU JDUDJH XSGDWHG EDWKV
NLWFKHQ PRUH
$PKHUVW 'U
0/6
7XOODKRPD ±
%5 %$ EULFN
KRPH Z VSOLW EU FRQFHSW IRUPDO
/5 '5 NLWFKHQ EUHDNIDVW
URRP IORULGD URRP ODUJH UHF
URRP RYHU JDUDJH PRUH
.HQVLQJWRQ /Q
0/6
7XOODKRPD
±
*RUJHRXV
%5 %$ KRPH RQ DSSUR[
DFUHV IHDW GHWDFKHG JDUDJH
FRXUW\DUG JRXUPHW
NLWFKHQ
JUDQLWH FRXQWHUWRSV PRUH
TAKE A LOOK
CHECK IT OUT
TAKE A LOOK
CHECK IT OUT
FEATURED LISTING
SOLD
SOLD
SOLD
SOLD
SOLD
SOLD
SOLD
UNIQUE PROPERTY
GORGEOUS HOME
CUSTOM BUILT
3 ways to use your lawn
to improve curb appeal
R
eturns on home improve-
ment projects vary. In its
annual Cost vs. Value Re-
port, Remodeling magazine
notes the projects that yield the best
returns on investment in a given year.
But a host of factors, including the type
of market (buyers' or sellers') and the
region where the home is being sold,
ultimately combine to determine if
homeowners' investments in home
improvement projects will provide the
returns they were hoping for.
Though there's no way of guaran-
teeing a home improvement project
will yield a great return, real estate pro-
fessionals often cite improving curb
appeal as an excellent way to attract
prospective buyers and potentially get
the asking price or more when sell-
ing the home. Improving curb appeal
makes even more sense in today's
real estate market, when many people
do their own searching via real es-
tate websites such as Trulia or Zillow.
Whenusing such sites, buyerswill like-
ly be less inclined to click on a listing if
exterior photos of the property are not
eye-catching.
Various projects, including tend-
ing to lawns and gardens, can improve
curb appeal. An added benet to fo-
cusing on landscaping to improve curb
appeal is it promotes spending time
outdoors in spring and summer. In ad-
dition, many lawn- and garden-related
home improvement projects need not
require professional expertise.
1. Maintain a lush green lawn.
Lawns that fall into disrepair may
not give buyers a correct impression
about how homeowners maintained
their homes. Lawnswithmultiple dead
spots and grass that appears more
brown than greenmay leadmany buy-
ers to assume that the home's interior
was equally ill-cared for. Maintaining
lush green lawns is not as difcult as it
may seem. Applying fertilizer and aer-
ating at the appropriate times of year
(this varies by region) can promote
strong roots and healthy soil, making
it easier for grass to survive harsh con-
ditions like drought. When watering
in summer, do so in early morning or
evening so as littlewater is lost to evap-
oration as possible.
2. Address brown patch.
Even well-maintained lawns can
fall victims to brown spots. According
to the lawn care professionals at Tru-
Green, lawns in regions with hot tem-
peratures and high humidity can be
infected with brown patch, a common
lawn disease that is caused by fun-
gus, which can produce circular areas
of brown, dead grass surrounded by
narrow, dark rings. Penn State's Col-
lege of Agricultural Sciences notes that
removing dew that collects on grass
leaves each morning, which can be ac-
complished by mowing or dragging a
water hose across affected areas, can
be an effective way to reduce brown
patch. Homeowners without much
lawn care experience can consult pro-
fessional landscapers to address the
issue. But those looking to sell their
properties should note that buyers of-
tenwalk the grounds of homes they are
considering buying. So addressing any
issues on the lawn should be a priority
for sellers.
3. Conne dogs to certain areas.
Dog owners may want to let their
pets roam free in their yards. But
homeowners about to put their prop-
erties up for sale may want to conne
their four-legged friends to certain ar-
eas. That's because dog urine can be
high in nitrogen. Nitrogen itself is not
harmful to lawns, but in high concen-
trations it can contribute to yellow or
brown spots. Also, highly acidic dog
urine may even adversely affect pH
levels in the soil.
Curb appeal can go a long way to-
ward helping homeowners sell their
homes, and a lush lawn can be used to
catch the eye of prospective buyers.
P
w
b
v
b
w