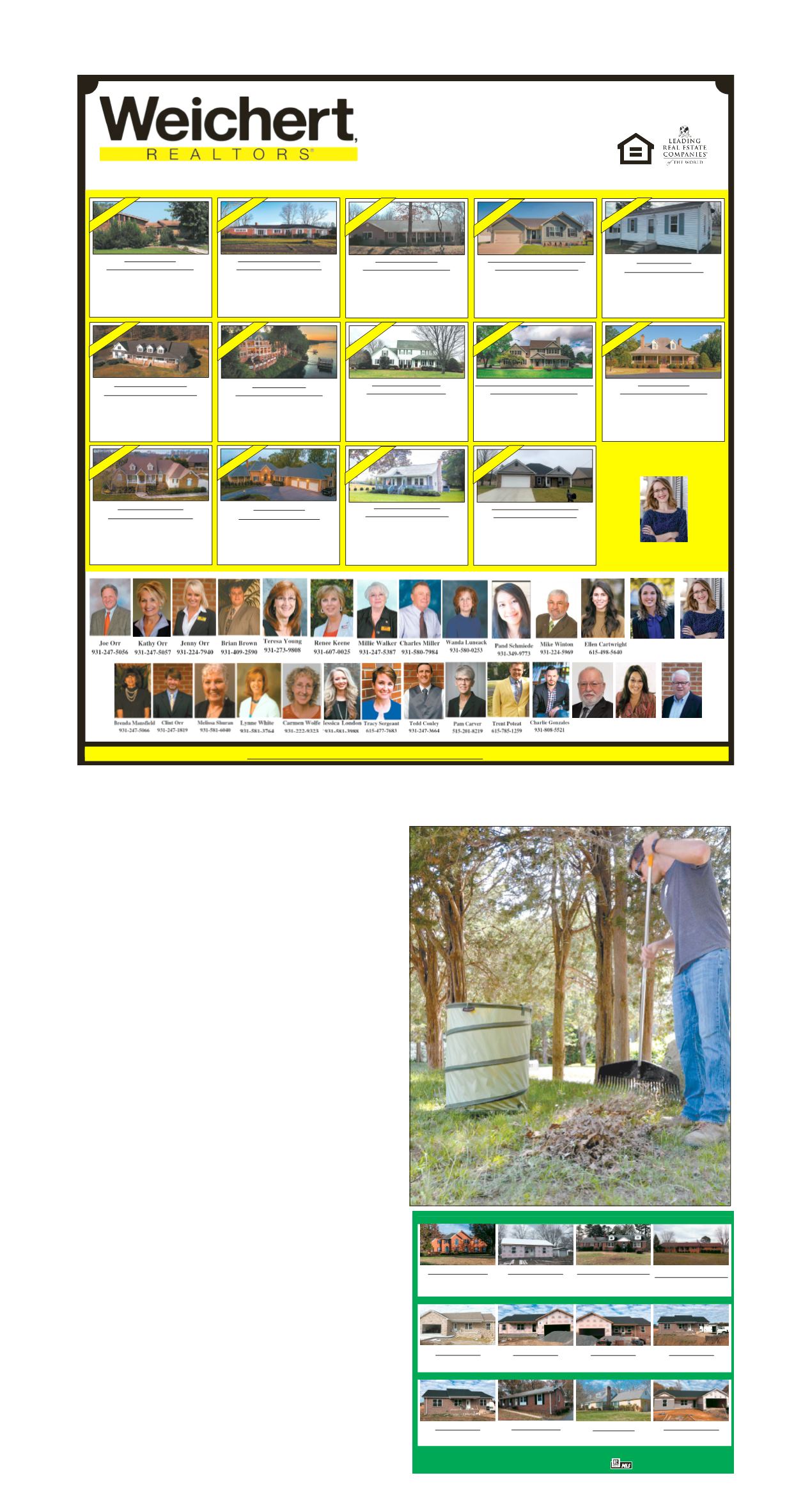 2A
—
Mid-Tenn Homes
--June 12,, 2019-June 25, 2019
Y
ou are thinking
of making a ma-
jor renovation to
your home. Perhaps it's
time to create that master
bedroom suite you long
have admired or install
that wrap-around porch?
What is the first thing that
should be done before get-
ting down to business?
The correct way to be-
gin a home remodeling
project is to obtain the
necessary permits for the
job. Many municipalities
request individuals ob-
tain permits for a range of
work on homes or other
structures, such as of-
fice buildings. Permits are
generally required for all
new construction as well
as specific modifications
that will affect structural,
plumbing, mechanical, and
electrical systems. It's im-
portant to check with the
local building office prior
to beginning work to see
which permits you will
need before the project can
begin. Permits are neces-
sary whether a homeowner
is doing the work or hiring
an outside contractor.
Due to the cost and time
involved with securing per-
mits, some homeowners
skip this step so they can
begin a project promptly.
However, this can end up
being a costly mistake. Per-
mits might seem like a nui-
sance, but they actually pro-
tect homeowners in various
ways.
Permits ensure safe
workmanship
Permits provide a blue-
print by which contractors
and do-it-yourselfers must
complete renovations. Be-
cause inspections will take
place, there is no wiggle
room. Shortcuts often trans-
late into subpar work that
may lead to malfunction
and injury in the long run.
Safeguarding against poor
workmanship means home-
owners can feel condent in
the work being done.
Permits reduce the
likelihood of costly
mistakes
As inspectors go through
their checklists, they may
notice things that were done
incorrectly and will offer ad-
vice about how to mend the
problem before it becomes a
larger headache. If left un-
checked, an electrical error
could lead to a re or anoth-
er dangerous situation. Re-
pairs that are not structural-
ly sound may pose problems
or deteriorate more quickly
than structures that are con-
structed correctly. Further-
more, catching improper
technique early on elimi-
nates having to tear down
and redo work, which can
be a costly and time-con-
suming endeavor.
Permits protect against
nes
Sometimes work goes as
planned even for homeown-
ers who did not obtain the
necessary permits. How-
ever, years later, when oth-
er work needs to be done,
inspectors may discover
homeowners never secured
proper permits and inspec-
tions years earlier, leading
to nes.
Furthermore, if work
is done without a permit
and an accident occurs, any
damages or injuries may not
be covered by a homeown-
er's insurance policy.
Permits are an impor-
tant part of the home im-
provement process. Home-
owners should not skirt the
responsibility because the
permit and inspection pro-
cess is in place to provide
protection to occupants.
LAND & LOTS & COMMERCIAL PROPERTIES FOR LEASE OR SALE
0 Short Springs Rd :
11.93 acres in RE Lee school
district. Development opportunity. $300's.
400 N Jackson St :
0.380 acres, 5000 SqFt. Formerly
Tullahoma Tire and Brake, Tire Pro. $285,000
land located in the Normandy Lake area. $39,500
Lots 1 Old Tullahoma-Shelbyville Hwy
–
Residential
tract w 5.77 acres in MC--$41,180
All Creekstone Lots --priced in the 20's
0 Setters Ln W –
0.83 acre. Beautiful wooded lot on Lake Tullahoma. $99,900
1 Short Springs Rd -
ACREAGE. 50 acres in Tullahoma
city limits. RE Lee School District. $935,000
6 Riley Creek Rd –
Normandy Tn 6.01 acres--$72,500
468 JD Neil Rd -
.25 acre building lot in Tullahoma. $15,000
1B N. Jackson –
$785,000 Commercial Prime Lot.
107 Ledford Mill Rd -
Office Bldg, $389,900, $2500 NNN, Approv. 3400 sqft
2120 N. Jackson St. -
Office Bldg, $2500
Lease, High visibility, formally medical
6 Lakeview St. Lot 6
Estill Springs,
$9,800
Kim Donna S/D
0 Turkey Creek Loop
2.29 acres
$18,500, Near Tims Ford Lake
0 Kings Lane:
$190's,
commercial building lot
501 Dinah Shore Blvd: Commercial office building
- $150s
100 Hunters Lane:
$1,295,000,
Medical office building
1411 N Washington St:
$550's,
New climate
controlled storage building
2228 N Jackson St:
$130,000,
commercial lot
601 Wm Northern Blvd:
$83,750,
close to airport
0 Cedar Lane-
$385-zoned R3,
high visibility-
$380's
Lots 82-83 Huffman Park-Ridgeville S/D-
$75,000
108 SR, Gruetli Laager-6 acres-
$29,999,
Residential lot
Woodbury Hwy 1.6 acres next to I024
$370's
1956 N Jackson
3925 SF $3000 K A Month
George Court
-
Prime corner lot in Blue Creek.
$27,500
310 E Lincoln - Office Space $370's
2860 Hurricane Creek Rd
MOVE-IN READY!! 3BR/2BA home on approx
5.65 acres in Moore Co/Tullahoma! The
home offers a wrap-around deck, stunning
private setting , updated kitchen, stainless
appliances, pantry, remodeled bathroom, and
much more on a beautiful secluded property
with creek, bridge and barn! Property selling
As-Is. $199,900
%5 %$
170 Cumberland Oaks Drive Lot 17
Updated and move in ready! Brick,
4BR/2.5BA home on large, level lot
just outside Tullahoma's city limits.
Split BR floor plan, soaring ceilings
w/moldings & millwork, hardwood &
tile flooring, newer carpeting, fresh
paint, SS appliances, large backyard,
deck, nice landscaping, concrete
drive w/2-car garage & more! $220's
%522.),(/' (67$7(6
107 Berkley Court
Beautifully maintained 4BR/2.5BA brick
home on a very spacious cul-de-sac lot w/
fenced backyard! 9' ceilings, an abundance
of millwork, gorgeous HW flooring, travertine
tile, granite counter tops & SS appliances,
a large & open floor plan, covered front
porch, deck wired for hot tub, storage bldg,
oversized 2-car garage & much more! HVAC
units- replaced 2016. Roof- 2009 w/25 yr
warranty. And, more! $290's
)5$1./,1 +,//6 ' ,1 :,1&+(67(5
495 Franklin Heights Dr
All-brick 4-5BR/3.5BA with open floorplan,
formal DR, LR, eat-in kitchen, den w/
FP, HW flooring. Spacious Master, Split
BR concept. Lg media room. Walk-out
basement w/access to back yard, patio,
covered front porch, screened back porch.
Much more! $340's.
1(: &216758&7,21
6(77/(56 75$&( 6 '
113 Stagecoach Pass
4/5 BR/3 Full/2 Half BA w/ hardwood and
tile, custom kitchen cabinets, granite,
SS appliances, built-ins, crown molding,
wainscoting, new paint, soaring ceilings, gas
log FP, multiple bonus rooms, office w/ glass
french doors, Master w/ double trey ceiling,
tile shower, privacy fence, covered porch/
patio. $440's
6RXWK -DFNVRQ 6W 7XOODKRPD 71
Harton Realty Company
www.hartonrealty.com
± ±
132 Normandy Tullahoma
4BR/4BA brick home w/ an oversized 3-car garage
on 74.50 rolling acres w/two ponds and gorgeous
views of Bedford County! 10 min. from Tullahoma's
city limits & Normandy Lake, this property offers
privacy, amenities & wildlife. Newer hickory HW
flooring, soaring ceilings, 2 fireplaces, custom
hickory cabinetry & granite counters, recently
remodeled master bath, covered front porch,
screened porch, backyard patio & more! $710's
202 Amherst Dr Lot 35
Beautiful one owner home w/ wood/tile
floors, granite in kitchen & baths, great
rm w/FP, formal DR, office or sitting rm,
Master BR w-sitting area, walk-in tiled
shower. 20x40 inground heated pool, hot
tub, 2 level deck, black aluminum fence.
Manicured lawn! $380's
102 Rushbrook Cir
4BR/3.5BA, double trey in LR w/gas log
fireplace, updated kitchen w/ granite and
custom cabinets, formal DR with trey/crown
molding, B2-B3 have a jack/jill bath, covered
back porch, large bonus room w/1/2 BA,
flooring is hardwood/tile/carpet, spacious
MB with jacuzzi tub/sitting area, walk in
closets, ceiling fans and more! Nice! $360's
1(: &216758&7,21
2105 Ovoca Rd
New construction 3BR/2BA home
w/ hardwood & tile floors, custom
cabinets, granite counters, bonus
room, sun room, tile shower,
covered patio, 6 ft kitchen bar, and
more. Limited time to still pick your
colors! $275,900
$&5(6
&5((.6721(
204 Regwood Drive
4/5BR 3Bath home with many
updates, hardwood, large master w/
tile shower, fireplace, large screened
porch, privacy fence, Jenn Air
outdoor grilling area, firepit, 2 car
attached / 2 car detached garage.
Large lot. $270's.
5 ( /(( 6&+22/ ',675,&7
1(: &216758&7,21
113 Collinwood Dr Lot 7
New construction 4 BR home
located in Tullahoma, Tennessee,
stainless Whilrpool appliances,
prefinished hardwood flooring,
tile in utility room and bathrooms,
patio, 2 car garage. $170,900
202 Broadrick St
New construction! 3 BR, 2
BA,
prefinished
hardwood,
tile in wet areas, stainless
Whirlpool appliances, patio, LR,
measurements approx-measure
if important. $130's
0$&21 0$125 %5 %$
029( ,1 5($'<
How building permits protect homeowners
Obtain the proper permits before beginning construction.
Did you know?
M
any homeowners have lofty
goals for their homes. Such
plans may include extensive
renovations or even additions. While
many of these projects create beauti-
ful changes in a home, it's important to
consider the impact that renovations
can have on property value before begin-
ning a project. Many home improvement
projects do not add as much value as
homeowners may think they do. In fact,
some homeowners "overbuild" for their
neighborhoods. This means the amount
of money invested in improvements can
likely never be recuperated because the
house value simply exceeds those around
by too much money. To avoid overbuild-
ing, homeowners can ask themselves
several questions before beginning a
renovation project.
· Will my house be the largest house
in the neighborhood? Larger homes tend
to have a lower price per square foot, so
you may not want to improve to this ex-
tent.
· Will the house blend with others in
the area? If your house will stick out like
a sore thumb, it will detract from its own
value and could impact the value of other
homes in the area.
· Have I examined the cost vs. value
of the project? Many home improvement
resources analyze the cost of a project
versus the overall value of that project
with regard to property value. For ex-
ample, a $100,000 basement remodel
may not add $100,000 to the value of
the home in the event you choose to sell
down the line. It's important to know
which projects provide the best return
on investment.
PLEASE VISIT US AT
WWW.WEICHERTJOEORR.COM
TO VIEW ALL OF OUR LISTINGS
LAND/LOTS
+Z\ 7UDFW
0/6
(VWLOO 6SULQJV ± (DV\ DFFHVV WR 7LPV )RUG /DNH 3ULYDF\ ZLOG OLIH PRUH
&HQWHUHG EHWZHHQ 7XOODKRPD DQG :LQFKHVWHU
/DNH (ODLQH 5G
0/6
6KHOE\YLOOH ± %HDXWLIXO UXUDO ODQG LQ %HGIRUG &RXQW\ $SSUR[ DFUHV ZLWK
UROOLQJ KLOOV 3DUWO\ ZRRGHG DUHD ZLWK ORZ WD[HV WKDW LV JUHDW IRU KXQWLQJ JURZLQJ
FURSV RU KDYLQJ VRPH OLYHVWRFN 6HOOHUV ZLOO GLYLGH
OPEN HOUSE
OPEN HOUSE
TAKE A LOOK
TAKE A LOOK
CHECK IT OUT
TAKE A LOOK
A MUST SEE
CHECK IT OUT
( +RJDQ 6W
0/6
7XOODKRPD ±
%5 %$ KRPH EXLOW
LQ
IHDWXULQJ VWDLQOHVV VWHHO
DSSOLDQFHV FHQWUDO KHDW DLU WLOH IORRUV
LQ NLWFKHQ DQG EDWKURRP FRYHUHG
SRUFK SDWLR PRUH
5HG %XG /Q
0/6
7XOODKRPD ±
&XVWRP EXLOW %5 %$
KRPH IHDW D PDLQ OHYHO PDVWHU EHGURRP
DOO +: IORRUV VFUHHQHG SRUFK LQYLWLQJ
HQWU\ Z EULFN ZDONZD\ VWRQH DFFHQWV
DWWDFKHG FDU JDUDJH PRUH
5RVHKDYHQ &W
0/6
7XOODKRPD ±
&XVWRP EXLOW LPPDFXODWH
%5 %$ KRPH Z RYHU VL]HG JDUDJH
FURZQ PROGLQJ +: IORRULQJ 66
DSSOLDQFHV FKHUU\ FDELQHWV VFUHHQHG
SRUFK SDWLR GHFN PRUH
6HWWHUV /Q
0/6
7XOODKRPD ±
,PPDFXODWH %5 %$
KRPH RQ /DNH 7XOODKRPD :DON ULJKW
RXW WR WKH ZDWHU RU HQMR\ WKH ODNH
EUHH]H IURP WKH PDLQ IORRU EDOFRQ\
.LQJVULGJH %OYG
0/6
7XOODKRPD ±
6WDWHO\ %5 %$
KRPH ORFDWHG FORVH WR /*&& IHDW D
VSDFLRXV NLWFKHQ Z EUHDNIDVW QRRN
+: IORRULQJ )3 GRZQVWDLUV PDVWHU
VXLWH Z VLWWLQJ RU ERQXV URRP QHXWUDO
FRORUV WKURXJKRXW
PRUH
RECENTLY REDUCED
:RPEOH 5G
0/6
6KHOE\YLOOH ±
$PD]LQJ %5 %$
KRPH Z DSSUR[
DFUHV IRUPDO
OLYLQJ GLQLQJ URRP )3 PDVWHU VXLWH
Z DFFHVV WR SRUFKHV VHSDUDWH RIILFH
ODUJH NLWFKHQ PRUH
)DLUZD\V %OYG 1
0/6
7XOODKRPD ±
%5 %$ EHDXWLIXO
VWRU\ KRPH IHDW D VSDFLRXV ILUVW
OHYHO PDVWHU VXLWH VSDFLRXV NLWFKHQ
Z HDWLQJ DUHD DQG EDU RSHQ WR IDPLO\
URRP JDV ORJ )3 RYHUVL]HG FDU
JDUDJH DQG PRUH
0DUNV $YH
0/6
7XOODKRPD ±
:HOO EXLOW %5 %$
KRPH RQ D ODUJH OHYHO FLW\ ORW +RPH
LV LQ D JUHDW ORFDWLRQ IHDWXULQJ DPSOH
VWRUDJH
VWRUDJH EXLOGLQJV ODUJH
IURQW DQG EDFN \DUG PRUH
COUNTY TAXES ONLY
RECENTLY REDUCED
RECENTLY REDUCED
:HVWVLGH 'U
0/6
7XOODKRPD ±
1LFH EULFN %5 %$
KRPH IHDW OLYLQJ URRP NLWFKHQ
+: IORRUV XWLOLW\ URRP GHQ
)3 IHQFHG \DUG EDUQ PRUH RQ
DSSUR[
DFUHV
/\QFKEXUJ 5G
0/6
:LQFKHVWHU ±
&RQWHPSRUDU\ VW\OH
%5 %$ KRPH IHDW RSHQ IORRU
SODQ ODUJH 0%5 GRZQVWDLUV )3 EXLOW
LQV DWWDFKHG FDU JDUDJH GHWDFKHG
FDU JDUDJH ZNVKS IHQFHG EDFN \DUG
PRUH RQ DSSUR[
DFUHV
1RUPDQG\ 5G
0/6
1RUPDQG\ ±
&XVWRP EXLOW
%5 )% +% KRPH IHDWXULQJ EHDXWLIXO
ZRRGHQ FDELQHWV JUDQLWH FRXQWHU WRSV
+: WLOH IORRUV EDUQ SLFQLF DUHD
PRUH RQ DSSUR[ DFUHV $GGLWLRQDO
DFUHDJH FDQ EH SXUFKDVHG
&DVFDGH 'U
0/6
:LQFKHVWHU ±
&UDIWVPDQ VW\OH
%5 %$ KRPH IHDW ERQXV URRP
RIILFH VWRQH ILUHSODFH +: IORRUV
TXDUW] FRXQWHUWRSV JDV FRRN WRS EDU
VWRRO DUHD FXVWRP IL[WXUHV PRUH
Sunday, June 23rd from 1-3 pm
Sunday, June 23rd from 1-3 pm
IMMACULATE HOME
LUXURY LISTING
GORGEOUS RENOVATIONS